"Corporal James Choi's regiment, along with those that knew him within Paladin, will remember him on November 11th."
- Michael Kenacan
On the eleventh hour of the eleventh day of the eleventh month, Canadians pause to remember the brave soldiers who fought for our country and honour those who are currently serving. With the recent passing of Corporal James Choi, this year's Remembrance Day holds a new meaning for the Paladin Family.
Remembering Corporal James Choi
On October 31, 2020, Corporal James Choi passed away during a live-fire training exercise at the Canadian Forces Base in Wainwright, Alberta. Along with serving Canada as a member of the Royal Westminster Regiment, James was a Tactical Mobile Unit Officer with Paladin Security.
We send our condolences to James' family and friends. James was a courageous and strong leader. He will never be forgotten and will always be a part of our Paladin Family.
An Interview with Michael Kenacan
Just like Corporal James Choi, we are proud to have many other Paladin Family members serving our country through opportunities with the Canadian Armed Forces (CAF), such as Michael Kenacan.
Michael is a Shift Supervisor and Healthcare Operator within the Paladin Operations Centre (POC) in Burnaby, British Columbia. He has been a part of our team for 7 years and we recently spoke with him about his now 16-year experience in the CAF. Discover what Remembrance Day symbolizes to Michael, as well as why he serves for our country, by reading our interview with him below.
Q: What organization are you involved in outside of Paladin?
I have been involved with the CAF since September of 2004. I joined as a 6 Field Engineer Squadron - now 6 Engineer Squadron - in North Vancouver, whom I remain with today.
Q: Why did you join the Canadian Armed Forces and what is your role?
I joined because I wanted to serve my country and engineering seemed to be the most interesting trade, a statement to which I still stand by today.
I am a section commander within the field troop of 6 ES, leading a section of troops in Garrison and in the field. Within Garrison, I perform administration, as well as the creation and instruction of theoretical and practical military engineering lessons. In the field, I direct my section in the completion of the mission, whether it is conducting a patrol on land or inland waterway, helping to build a bridge, or performing demolitions on a target.
Q: What skills have you developed in service that allow you to succeed as a Healthcare Operator?
Being a part of the CAF has improved my ability to think and act calmly under pressure and in stressful situations. It has also enhanced my multitasking abilities, allowing me to excel in my fast-paced role within the POC at Paladin. Additionally, all of these skills have led me to effectively balance both careers through strong time management, while still enabling a good work/life balance.
Q: What does Remembrance Day symbolize to you?
To me, Remembrance Day symbolizes the sacrifice of previous soldiers who suffered physical and psychological consequences from responding to the call of duty. This duty is not just limited to war or overseas service, as risk exists everywhere within the soldiering profession.
A recent example of this is our fellow Paladin Family member, Corporal James Choi, who was recently lost while on exercise in Alberta. Corporal James Choi's regiment, along with those that knew him within Paladin, will remember him on November 11th.
Q: If you could give advice to someone following in your footsteps today, what would it be?           
Embrace what you do, and do not avoid experiences that you might consider to be outside of your comfort zone. You may be pleasantly surprised by the results.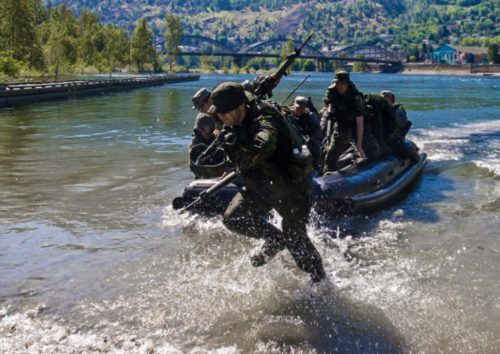 Cpl. Michael Kenacan pulls his squads assault boat onto the shore at Gyro Beach in Trail, BC.
Remembrance Day in Canada During COVID-19
According to Veteran Affairs Canada, many commemorative programs, services, and activities have been impacted due to the COVID-19 pandemic. However, there are still many safe ways to honour those who have served Canada on November 11th, such as:
At 11am, take two minutes of silence to remember all veterans who sacrificed their lives for our freedom
Attend Remembrance Day ceremonies across Canada virtually HERE
Take a virtual tour of Canadian memorial sites in Europe HERE
Today, let us honour, reflect, thank, and remember Corporal James Choi and all other veterans who sacrificed their lives for our freedom.
Reader Interactions