Signing new clients and helping out security officers are just a few of the things Client Service Manager Brandon Partridge enjoys most about his job with Paladin Security. But working in the security industry wasn't what he initially signed up for.
"As a kid, my aspiration was to become a police officer. So, I attended Mohawk College and graduated from their Police Foundations program in 2008," Brandon said.
He was hired as a constable in 2009 but ended up sustaining a career-ending injury in training. Having previous experience in security, he thought he'd give it another shot.
"Things just kind of flourished from there. I was given more and more opportunity for growth and to experience different aspects of the industry, and at that point, I was thinking maybe it's security that I'm destined for instead of policing," Brandon added.
Brandon's journey through the industry started with entry-level security work, such as watching construction sites, then moved to mobile patrol, before getting into retail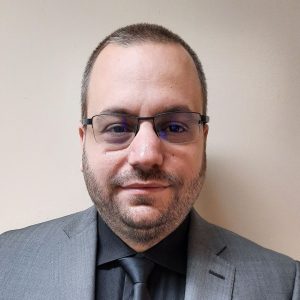 and loss prevention. He continued to move up the ladder, taking on managerial roles, like Operations Supervisor, which helped him gain experience in HR, recruitment, and other areas.
"With the security industry, one thing I learned over the years is the number of verticals that are available. It's not just your basic security guard watching an empty building. You have industrial, ports of entry, healthcare, retail loss prevention, and investigation," Brandon said. "There are just so many opportunities to discover, it's definitely not a boring job."
What Brandon didn't know was that his job was about to get even more exciting. In September 2020, Paladin Security acquired Lyndon Security, the company he worked for. He said while he had mixed feelings about it at first, he quickly realized Paladin still had a close-knit family feeling similar to what Lyndon had, just on a much bigger scale.
"That mentality gives us the ability to not only maintain the close relationship between the Lyndon team but also allowed us to bring other members of the Paladin Team into that family," Brandon said.
A bigger work family wasn't the only benefit for Brandon. He was also given ample opportunity to grow in his role.
"If there is an opportunity there, I like to take it. I want to gain as much experience as I can and be as helpful as I can. One thing I really like about my role is the different aspects of it. I'm involved in business, business development, operations, and scheduling, so you gain experience in a little bit of everything, and every day is just a little different than the last," Brandon said. "There is nothing like getting that little bit of a rush when you're able to sign a new client, no matter how small or big it is."
Brandon is also passionate about being involved in company initiatives, like the Canadian Security Lifesavers Award committee and contributing to the wellness of our employees. He also isn't afraid to find new ways to improve workflow.
"Everything I've brought up at Paladin has been taken in consideration. I've worked for previous companies where you're never heard, you're basically just a number, but here, if I go to my superiors, there's not that fear of talking to someone at such a high level, and you don't feel afraid to bring forth ideas and opinions. You know not only will they be heard but they'll be taken into consideration," Brandon said.
When Brandon isn't busy gaining clients and bringing up new ideas, he's at home with his wife and four-year-old twin girls. Both are autistic, so it's about time management and organization in order to find that work-life balance.
"It's something I'm able to have at Paladin. I'm not always dealing with business all hours of the night. I actually get to spend a lot of time with my family and attend appointments for my daughters, such as speech therapy. Having that work-life balance is really stressed from the top of the company down, and it's been very beneficial," Brandon explained.
As for what his daughters have taught him…
"Because of how they've progressed, they are progressing faster than what was originally anticipated, it's really, expect the unexpected."
It's a motto Brandon uses both at home and at work as he strives for what's ahead both personally and professionally.
If you're interested in being a part of the Paladin Family, visit our careers page.
Reader Interactions