At Paladin Security, we believe the best way to create a strong team is through employee development and our promotion-from-within philosophy. Through our development programs, an employee can plot their own career path within our organization, lending stability to our workforce. In our bi-weekly feature, Paladin Then & Now, we're showcasing some of the amazing and inspirational stories of our employees rising through the ranks. This week, we're featuring Morgan Kenney, Specialized Services Operations Manager.  
Morgan Kenney | 
Specialized Services Operations Manager
How it Started
Morgan began her career at Paladin as a Security Officer in Vancouver at the downtown BCIT campus. Shortly after that, she was transferred to the main BCIT campus in Burnaby and eventually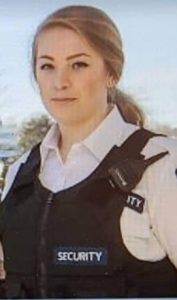 moved her way up into the role of Acting Site Manager. But she stumbled across a roadblock when she decided to move to Grande Prairie, Alberta. She wanted to stay with the company and was luckily able to become a Client Service Manager. Since then, she's made another move, this time to Edmonton, where she is now the Specialized Services Operations Manager.  
Promotion from Within
Morgan says that she was aware of Paladin's promote-from-within philosophy, which was one of the reasons she decided to apply in the first place. She always knew she wanted to move up within the company from the moment she walked into Head Office for a hiring fair. She says she loved the atmosphere and how welcoming everyone was. She also valued the mentorship and support she was provided from the very beginning.  
"The dedication and opportunities that Paladin provided me within the first few months of employment truly showed me how they really valued the promotion from within philosophy. I looked up to my CSM, Jeff Peng, at the time and set that as my goal within the company," Morgan explains. 
Making the Transition
The transition for Morgan from being an officer in the field to being in the office was a great feeling as it meant she accomplished her goal. She says her biggest struggle was the work being completely different and how long it took for her to get familiar and comfortable with her new role as a CSM. Being a CSM in a smaller town also meant wearing a bunch of different hats, but that experience provided her with an overall understanding of the business and operations.  
Morgan has always been interested in law enforcement and security. She a degree in Criminology and a certificate in Forensic Studies. She says she feels that education has helped her understand crime and the many theories behind it, which in turn, gives her a leg up in her role.  
Working for Paladin
Morgan is a people person at heart, and it's one of her favourite things about working for Paladin. She says she's so lucky to be able to work alongside her amazing colleagues day in and day out.  
Advice to Others
"Continue to work hard and show that you want to move up. Set goals for yourself and work your way towards those advancements. Take all the opportunities that you can to advance yourself, including knowledge and training." 
Reader Interactions