At Paladin Security, we believe the best way to create a strong team is through employee development and our promotion-from-within philosophy. Through our development programs, an employee can plot their own career path within our organization, lending stability to our workforce. In our bi-weekly feature, Paladin Then & Now, we're showcasing some of the amazing and inspirational stories of our employees rising through the ranks. This week, we're featuring Wiley Kwan, Talent Acquisition Manager.
Wiley Kwan - Talent Acquisition Manager
Wiley, you have a long history at Paladin, what role did you start in? 
"I started in 2009 as a part-time security officer and was looking to get some experience for policing. Over time I took on opportunities that made me want to stay with Paladin and grow professionally."
Could you list every title you've held in between?
"All of the positions I've worked in order:
Security Officer
Command Centre Operator
Downtown Integrated Security Community Coordinator
Security Programs Manager
Security Site Manager
Portfolio Resource Coordinator
Strategic Staffing Coordinator
Talent Acquisition Manager"
Wow, that's quite the journey! When you first started, were you aware of Paladin's "Promotion from Within" philosophy?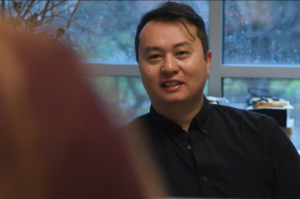 "No, I did not, but I can tell you that the Promotion from Within philosophy has helped me grow professionally because it gave me the opportunity to learn new roles. Ask me 5 years ago and I never would've thought I would be working in HR/Recruiting. Paladin gave me the chance! Now, I am pursuing my CPHR (Chartered Professionals in Human Resources) designation, which Paladin has also been supporting me by giving me time off for exams and helping with the tuition expenses. Personally, I've grown to be more understanding, patient, and open-minded since I started working at Paladin. I feel like every position I've worked in has helped me mature into a more well-rounded person."
When, how & why did you decide you wanted to move up within the company? Did anyone help/mentor you?
"It was when I got my first office position, Downtown Integrated Security Community Coordinator, that I decided that I really wanted to advance within the company. Jeff Peng (actual Director of Innovation & Transformation) was someone that helped a lot and sort of mentored me along the way. Also, Destiny Henze (previous Talent Acquisition Manager) was the one that gave me an opportunity in HR and helped me to be successful in my role as a Strategic Staffing Coordinator."
If you started as a Security Officer, what was the transition like from field to the office?
"It was a cool experience, being able to have a more flexible time schedule and command of your work. I remember the first day, I had asked my Manager at the time if I could go on my break, which was something that you had to do in the field."
That is hilarious! What are some other crazy differences or changes in the workflow that impacted your day-to-day that maybe took some time to get used to?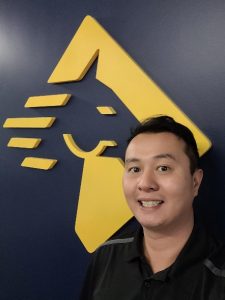 "I wouldn't say it was crazy but what impacted me the most when I first started in the office, was the amount of collaboration that is needed to work on any ongoing project. Everyone was super helpful, which made it easier, but it was definitely a change from a previous Operator position where the work was more individually driven and not so much team driven."
What is your favourite thing about working for Paladin?
"The opportunity to try new roles, to be able to learn so much and grow professionally. To be able to try new things all the time and be allowed to make mistakes as long as you learn from them."
What is one of your biggest learning experiences from making some mistakes along the way?
"One of the biggest learning experiences for me was to ask for help when I needed it. Learning that asking for help is not a sign of weakness at all. Don't try to take on everything on your own because there are many people at Paladin that will help and support you without hesitation."
What piece of advice would you give to someone looking to move up within the company just like you did?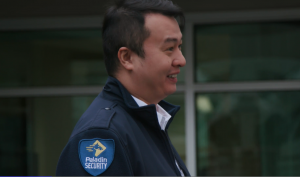 "Always be willing and flexible, and don't be afraid to try different things even if it is outside your comfort zone. I never thought I would end up in HR as Talent Acquisition Manager."
Amazing, thank you for sharing your Paladin story Wiley!
There are many Paladin Promotion from Within stories that inspire employees to grow professionally and personally. If this story aligns with something that you want in a company, feel free to check out our careers page. We would love to see you grow with us!