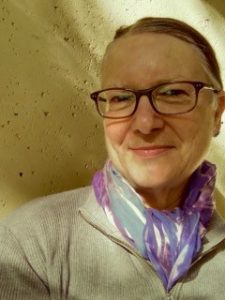 How long have you been in security and what drew you into the industry?
I've worked in the security field for nearly 15 years - at three fairly prestigious locations throughout Vancouver. I have enjoyed all of the sites - Paladin is by far the best security company I've worked for in that regard. It is not perfect, but Paladin works hard to do a lot of things right. This I appreciate!
I had been working in the film industry as a VFX and Post coordinator for film & TV and when my child was born, I took a year off. I couldn't imagine going back into the chaos of film work while having a small child at home.  So I looked about for likely job prospects that would allow me to work weekends so my partner could parent and Voila - discovered security.  I found security/concierge work allowed me to use my entire skill set - people, persuasion and paperwork - and so I have stayed.
How do you maintain a healthy work-life balance?
I bring my dreams to work (https://www.janawilliams.ca) to add focus and passion to what I do there.  I understand that the way I do this job, right now in front of me is just as important as the novel I will write or the website I will create when I am at home. The pay cheque for this job subsidizes my dreams as well as paying my rent.  So I feel it deserves my full attention when I am at work. I remind myself of that fact when I think of skipping a patrol or not answering an email query because it's annoying. I do the work so I can feel good about the work I do… which I can take home to fuel my writing and relationships there.
What unique traits do you feel women bring to security?
I'll speak in generalities about this because everyone is different…. But I believe women are a very good 'fit' for Paladin's model of hands-off security work. Women are non-confrontational by nature and are often verbally skilled too. They feel 'safe' in a different way than men.  Structure, rules and consistency are often things women apply to situations naturally - they don't like 'winging it'.  In a prickly situation I will step in and do the hard work - but I'd rather talk a person out of an action than have to stop the action once it's in progress.
What's the best piece of advice that you've been given and you'd like to pass on to women following in your footsteps
The words of the Buddha always come to mind in any situation where choice is involved: "Do no harm" and always stay aware of your surroundings!
What does the "Paladin Difference" mean to you?
I said earlier that Paladin is not perfect…. we could all go home now if it was so. But my impression is that the people of Paladin do the best they can with what they are given. At one former site I trained all the guards because no one else would take the time - so I really appreciate Paladin's focus on training (I would love to see it extended to the field… but first things first)  I LOVE the Paladin University model for online tutoring!! Fantastic resource.  And I love the follow up training for CPI to remind everyone to be safe and how to do it.  And as a woman,  I love the care that's taken with uniforms and outer-wear to ensure they fit and look good too.