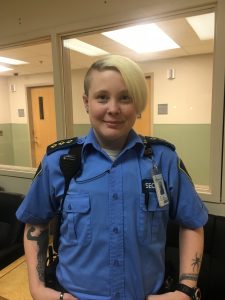 How long have you been in security and what drew you into the industry?
I started working in security back in 2004 with the Corps. of Commissionaires. After three years of working in various sites, I moved into By-Law Enforcement. Shortly after the contract was taken over by G4S and I moved over with the new company. I was then sworn in as a Compliance Officer and worked with them for another two years before moving to Ontario. During my time there, I tried other various careers, but was always drawn back to security. Being from a military background, and living on the military base, I again went through the process of getting hired on with the Commissionaires. In 2015, I was called for an interview with Paladin Security and was hired right away. I started working at the Chinook Regional Hospital as a Secure Watch Officer but quickly got trained for a Core position. I worked as a Core Officer from November 2015 to February 2016. In February, I was offered the Southern Alberta Zone Supervisor position and took the offer right away. I was happy and honoured to have moved up into the position so quickly and I enjoyed the position very much. I am now currently working at the Chinook Regional Hospital as a Shift Lead.
Have you ever received any special recognition from Paladin for your efforts?
During my time as a Zone Supervisor, I received various awards. The first award was Unsung Hero for the work I was doing as a Supervisor and utilizing my skills for the Officers who turned to me for help or for any questions. It felt great to have received this honour from my manager and to know I was doing a great job.
Another award I received from my manager is one I will never forget. I didn't need an award but it felt validating to be recognized for such a small task. I was driving to Medicine Hat and with the extremely foggy conditions, it was difficult to see the road ahead. The vehicle in front of me had hit a deer and fell into a ditch and I pulled off to the side of the road and checked on the driver. She appeared to be in shock and complained only of neck pain. I quickly called the RCMP, explained the situation and let them know where we were.
I put on my gloves to pull the deer carcass off the road so any approaching vehicles won't run into it again. Afterwards, I stayed with the woman until the RCMP and Paramedics arrived on scene. Luckily, she was okay. While it may have not been a huge emergency, it felt great to help someone in time of need.
What unique traits do you feel women bring to security?
When dealing with certain situations, women can show different types of compassion, understanding, and if the person or patient we are dealing with is a female, it can make them feel more comfortable. Many patients in a hospital are often tense or agitated and seeing someone in a uniform can make it worse for them. But seeing a female in uniform, they may feel more comfortable to approach her.
Why are women in leadership so important for the growth of the industry?
They always bring their experience and skills as a leader forward and they encourage and avoid discouraging. Leaders will work on building their team for great success. Women can be very compassionate within the industry - they bring that trait forward and also encourage it. As a woman, I take pride in my uniform no matter what position or industry I'm in. I have always loved working in security and will always find more ways to grow and build my skills.
How do you maintain a healthy work-life balance?
I try to stick to a routine and strict schedule. This can be hard at time with children and working two jobs - I work full-time for Paladin and work casual for Alberta Health Services. I avoid taking on too many extra shifts, I listen to my body when it tells me that I need a break or more sleep. I also pack healthy lunches and avoid energy drinks.
What's the best piece of advice that you've been given and you'd like to pass on to women following in your footsteps?
Always lead by example, always be positive. Women can be looked at differently in this industry, but we can do the job no matter what. Also, stay strong and never give up. Women are stronger than what many people many perceive.
What does the "Paladin Difference" mean to you?
The Paladin Difference to me means hard work, never a dull moment, experience and skills. This company has given me more skills and training that most companies don't offer. Working in Lethbridge has also been a great experience for me because I can always rely on and trust the people I work with. The Paladin Difference means going above and beyond as much as I can and always being there in a time of need for the public, visitors, staff, or patients.