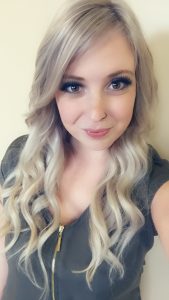 1. How long have you been with Paladin?
I have been with Paladin Security Group since May 2018. I started as a Security Officer working many posts, trying to gain as much experience as possible. I completed Alberta Health Services training in June. From there, I consumed most of my shifts doing patient and security watch at our local Northern Lights Hospital. In July of 2018, I started a new role as receptionist in the Fort McMurray branch. I constantly helped with the Human Resources side of the business, and in September 2018, I got promoted once again, this time to Administrator of People & Culture.  I have continued working in this role since then and have been dedicated to making the world a safer and friendlier place!
2. What initially motivated you to join the security industry?
When I first moved to Fort McMurray, I was overwhelmed with the opportunity such a small city held and was instantly attracted to the security industry. The main reason being that I like to think of myself as a giver and the security industry lets me do just that. Whether it be from helping a patient with mental health issues through a rough patch, or insuring that employees are 100% happy in their role in which they are placed. I like to see people smile. The security industry has given me the chance to make someone's day every day.
3. Which unique traits do you believe women bring to security?
Being a woman in security has been very empowering. As a woman, sometimes we can be seen as unable to approach a certain situation because we are too soft, too fragile, or too dismissive. Women often seem more approachable, and I feel that if we are trained properly and are confident in our field than we can handle anything that is thrown our way.
4. You recently participated in Paladins Junior Management Training Program. Please describe the experience and what you learned.
The experience I had at JMTP was definitely an eye opener. Not only did I get to learn about every aspect of the company that I have been curious about such as investigations and negotiation tactics, but having met such amazing talent from across North America and getting to share our struggles and stories was truly amazing.
5. What's the best piece of advice that you've received that you would pass on to women following in your footsteps?
It is very liberating to take charge of ANY and ALL situations that are thrown your way with dignity and proving that you too can be successful in the security industry. Hard work does pay off, so keep doing just that.