At Paladin Security, we believe the best way to create a strong team is through employee development and our promotion-from-within philosophy. Through our development programs, an employee can plot their own career path within our organization, lending stability to our workforce. In our bi-weekly feature, Paladin Then & Now, we're showcasing some of the amazing and inspirational stories of our employees rising through the ranks. Today's feature is on Employee Care Manager Kenji Shimizu.
Kenji Shimizu – Employee Care Manager
You are currently an Employee Care Manager, but what was your first position you held with Paladin Security?
My first day at Paladin Security was on June 1, 2010, as a Bike Officer at a high-rise office tower in downtown Vancouver. 
How many positions have you held since then?
In Dec 2010, I became a Concierge Officer at the same high-rise office tower.  In February 2011, I moved to a bigger site across the street under the same contract that
comprised of 4 high-rise office towers connected by an underground mall where, in November 2011, I transitioned into a Shift Supervisor.  In June 2013, I submitted an application for the Employee Care Coordinator role and was selected as the successful candidate.  On November 17, 2017, I became the Team Lead of Employee Care, and then on November 17, 2018, I was promoted to my current position of Employee Care Manager. 
Wow, so you've held a lot of different roles. You have a Bachelor of Arts in Religious Studies from TWU. Did that help you in any of your roles here at Paladin?
In terms of human resources, I had no training, schooling, or background in this field.  It wasn't until I started as the ECC and found a passion for HR that I went back and got a certificate in Human Resource Management from SFU. 
When you first started, were you aware of Paladin's promote-from-within philosophy?
It was something that I read about on the website and heard about in the Paladin Security orientation but nothing I truly believed at first.  In my mind, "promotion from within" was something all companies talk about to attract candidates but something I've never experienced or seen practiced, and Paladin Security was no different.  I was completely wrong.  
When and why did you decide you wanted to move up within the company?
The "aha moment" came to me when I was endorsed and selected to attend the Paladin's inaugural Leadership Development Day at the beginning of 2013.  Prior to the LDD, I thought I knew everything about security and the company—do patrols, lock and unlock doors, give customer service, handle emergencies, remove peoples of interest, and write reports.  After attending the in-class training, learning about the various aspects and considerations of the security industry, the different departments within the company, and hearing from Ashley Cooper (Paladin's CEO) about his vision, mission, and purpose for the company, it opened my eyes and I started to look at my position as more than just a job.  Shortly after I submitted my first application to a position within HR and started down my career.   
What was the transition like from field to office?
The two things that immediately struck me were, as a Security Officer, you do your shift, then you hand off to the person relieving you, you go home, you come back the next day and you start anew.  In the office, there is no handoff and everything you don't finish is there waiting for you the next day, or sometimes there are deadlines that you need to get done and so your day doesn't necessarily end at 4 pm.  The other thing was, as an Officer you get paid every two weeks, but the office staff gets paid twice a month: when I first transitioned, I didn't realize this and for a couple of months I thought I was missing pay. 
That probably took some time getting used to! Since you've spent time in both field and office roles, what would you say is your favourite thing about working for Paladin?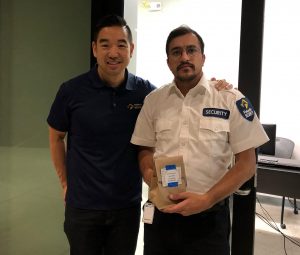 The people!  It's great to come to work with like-minded individuals whom you know you can count on when problems arise.  When I think of my colleagues, both within and outside of my department, we all have such diverse and unique backgrounds but are united in our endeavor to be the best security company.  We come in and give 110% but also have laughed along the way.   (Please note, the photo on the left was taken pre-COVID-19)
Are there any corporate values that you feel aligned to?
One of the values that I resonate with is "good is never good enough".  Paladin is always striving to better itself and this is accomplished in a few ways: one is encouraging
individual development, whether through projects or additional education.  Paladin has provided me countless training, and in turn, I've done my best to apply those learnings into my roles, which I feel is the key to my successful career progression.  There is always something to learn or something to improve upon yourself.   
After nearly 11 years with Paladin, is there a piece of advice that you would you give to someone looking to move up in the company?
Learn from your mistakes and strive forward.  I have hit snags and setbacks in my career, and I've been unsuccessful in my application for a promotion.  I've also made mistakes and received written warnings, and you will too. What is important is how you react to those snafus: do you sluff off ownership, blame someone else and continue to exhibit the same behavior OR do you admit your error, learn from your mistake, make a conscious effort to improve yourself, and persevere forward.  I choose the latter and it's served me well so far.