CANADA'S EMPLOYER OF CHOICE
Paladin Security offers the best employment and most development opportunities of any security company in the country. With a coast-to-coast reputation as the Employer of Choice, Paladin was selected as Canada's Best Employers by Forbes since 2020, the Best Place to Work by Glassdoor in 2016, is the only security firm ever to be recognized as one of Canada's Best Managed Companies, and has been named Canada's Top 10 Most Admired Corporate Culture for 10 years running.
THE PALADIN DIFFERENCE
With our depth of knowledge, our focus on innovation and our never-ending desire for self-improvement, Paladin is your best choice when looking to grow your career and develop yourself within a culture-focused company.
Image credit: DARRYL DYCK / POSTMEDIA
OUR CULTURE
Paladin's proven management strategy revolves around a strong corporate culture. This includes our belief in creating a dedicated and professional environment. This commitment has been repeatedly recognized as one of Canada's most admired corporate cultures.
INDUSTRY LEADING TRAINING
We prepare you with all the tools and training to perform at your best. Paladin offers company-paid training from the industry's top trainers, with a variety of comprehensive in-person and online training. Throughout your career at Paladin you'll learn management of aggressive behaviour, healthcare security officer training, diversity awareness, professional development skills and more.
CAREER FAIRS
There's no doubt that working in security can be a very rewarding career. Come and explore more career options with us!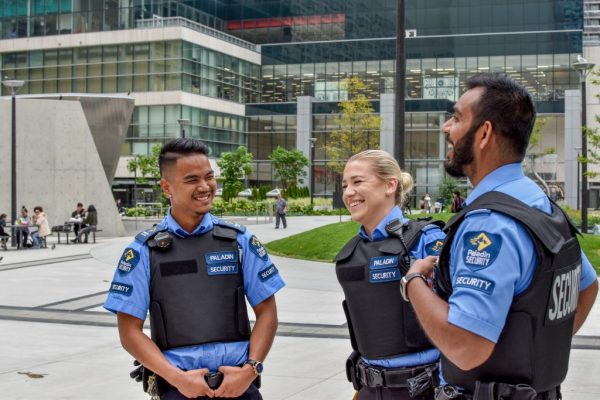 EMPLOYEE TESTIMONIALS
I appreciate how the managers look at each employee they're working with and recommend training that would help them improve in their role.

Loss Prevention Officer

Paladin was the first large scale company I worked for with so many employees and I immediately loved seeing the ways that Paladin worked to make sure every employee was made to feel like a part of a family. Being a part of a team that continues to support our staff and make them feel like more than just one of thousands is something I am so proud of.

Administrator, People and Culture

I love coming to work every day because of the people and the differences that we make in our community.

Manager of Operations Excellence
Community Service Representative

"

I recommend Paladin as an employer because they are a company I can count on every time I need support.

"

Scheduling Manager

"

I love that I have the safety to make mistakes and learn from them, the support to try new ways of doing things and the challenge to continue to try it all. I enjoy coming to work and being able to support my team the same way that I am supported.

"

Ambassador

"

One thing that impresses me consistently is the high professionalism, inclusion, and support I receive from the officers at my work site. I'm always an integral part of the team here and it feels great!

"

Operations Manager

"

Paladin has provided me with what seems like unlimited growth opportunities, both professionally and personally. I love that from the front lines all the way to the CEO, every one who works for Paladin has a passion for the industry we serve.

"

Employee Care Advisor

"

Paladin wants their employees to do better so they're always looking for ways to coach them to be successful in their roles.

"

Vice President, Innovation and Transformation

"

Security was never a job for me. It's my career. I'm proud to be with Paladin and see the difference I make in people's lives everyday.

"

Manager of People and Culture

"

I love being able to help people; Whether it is raising donations for charities in our community or giving individual attention to our employees who just need someone to talk to. My career has been filled with supporting our front-line staff and the community. It gives me a true sense of purpose while contributing to my job satisfaction.

"

Director of Operations

"

My career has come full circle, beginning as a Security Guard in the mid 80's, moving in to a 26 year policing career and now back where I started in the Security industry. It has been a great journey, feeling incredibly happy and proud working in an environment where we can make a difference.

"

People & Culture Coordinator

"

One of the most rewarding parts of my role is being able to see our employees advance and succeed in different leadership positions from our internal advancement opportunities.

"

Client Service Manager

"

Working at Paladin is more than just a job to me, its like being part of a large family. I enjoy being part of a company that strives to help all staff become successful in their careers through mentorship, work experience in a wide variety of industry verticals and advanced training opportunities.

"

Instructor/Facilitator, Training and Development

"

I am passionate about being a trainer and mentor for the people who start their careers in the security industry. I love motivating people and bringing out their best so they succeed and grow within our company

"

Client Service Manager

"

Paladin Security is more than just an employer to me, they are family. We work in different communities and each has its unique characteristics. I am very proud working in the Fort McMurray community and seeing all the difference Paladin is making in my community and being a part of it. For me, being a part of the Paladin Family has been a life changing experience in a very positive way .

"

Operations Manager

"

Paladin is amazing company throughout its entirety. It has high level executives that truly care about our staff and their wellbeing, as well as amazing site level employees that truly make a difference in their communities. Finding a company that is so complete is extremely rare and I'm very proud to be a part of that.

"

Training Coordinator

"

I love to see a student's eyes light up when they learn a new useful piece of information that might help them professionally, or personally. By equipping our people with the best tools, it is my hope that I can keep helping others, and to keep making the world a better place, one interaction at a time.

"

Director

"

After 37 years in the industry, working at Paladin keeps me energized. I totally buy into Paladin wanting to make the world a safer and friendlier place and try to do my part each and every day.

"

Client Service Manager

"

Paladin Security is a great company to work for because they truly care about the health and wellbeing our employees.

"
TIPS FOR A SECURITY CAREER
Careers in Security

Paladin Wears Orange in Support of National Truth & Reconciliation Day

September 30, 2022

"Every Child Matters, even if they are an adult, from now on." – Phyllis Webstand Friday, September 30, is the

Career Changers

National Security Officer Appreciation Week 2022

September 21, 2022

The third week in September is National Security Officer Appreciation Week. It is a time to celebrate our security professionals'
APPLY TODAY
Start building a rewarding career with the fastest growing and most reputable security company in Canada. If you think you have what it takes, register for one of our exciting Career Fairs or apply online for career opportunities in your area.