The 2017 Manitoba Ag Ex, presented by the Provincial Exhibition of Manitoba, ran from October 24th - 28th  at the Keystone Centre in Brandon.
The annual four-day event served as a venue for Manitoba's best purebred cattle. Highlighting breeders' hard work, while enabling them to feature and market their cattle, the Ag Ex is a celebration of their dedication to Canada's important agricultural economy.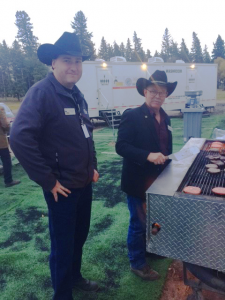 Beginning on October 24th with a Provincial Exhibitor's Night in the Dome, President Ron Kristjansson and Director Mitchell Eastley, pictured, took to the grill to feed the 500 guests and friends.
Paladin is the security provider of choice for the Provincial Exhibition of Manitoba.