Straddling between fall and winter, Halloween is a time for costumes, celebration and sweets, especially for children  everywhere.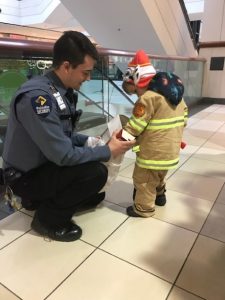 One Security Officer, Brandon Kreamer, stationed at the Oxford Edmonton Mall made Halloween a special one for mall visitors. Brandon purchased a big box of sweets to give to some tiny trick-or-treaters during his patrols. This small gesture was great to see and appreciated by the kids, including this tiny fireman in the photo.
We are proud to see our local Security Officers taking customer service to a new level, making small gestures that create a big impact!