This year's most anticipated event in the Wood Buffalo Region, known as the annual Keyano College Gala  (presented by Birch Mountain Enterprises Ltd.) raised more than $285, 000 on their sold out event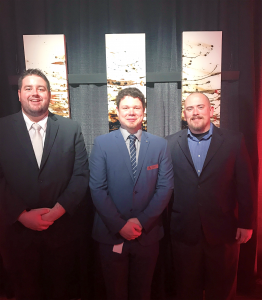 ! The College beat its goal by $25,000 and plans to allocate the funds raised to support its students, programming, athletics, theatre and infrastructure improvements at the College.
(Photo: Left to Right, Brian Lafreniere (Scheduling Administrator) Eric Letham (Keyano College), and Matt Garcin (Branch Manager))
Team members Brian LaFreniere and Matt Garcin from our Fort McMurray branch attended this year's gala and are pleased to have helped raise funds through ticket sales, raffles and silent auction. The Canadian themed evening featured a live performance by Canadian band, the Barenaked Ladies who performed hits from their new album and fan favourite hit, If I Had a Million Dollars.
"On behalf of Keyano College, I would like to thank all our partners, donors, and friends for supporting us in hosting another fantastic Gala," said Tracy Edwards, President and CEO of Keyano College. Close to 100 corporate and community sponsors participated with local businesses offering services throughout the evening.
Our hats off to Keyano College and all of the numerous volunteers, internal and external to the college who made the Gala a great success.