On September 11th, 2018 while out on a standard patrol, Security Officer Jacob MacAusland heard a call for aid. This was not an ordinary call for help but rather the sound of a panicked animal; the faint and very muffled sounds of a kitten's meow could be heard somewhere in the parking lot of the hospital.
Jacob was able to track down the sound and eventually narrowed his search to one car. Once he located the vehicle he realized that the cat had somehow managed to get itself stuck underneath the hood of the car.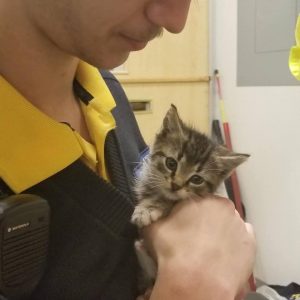 Not knowing exactly how to proceed, Jacob placed a call to the non-emergency line of the local police dispatch who were able to provide some assistance. The dispatcher ran a search on the plates and was able to give the name of the vehicle owner, and Jacob set out to find him.
Jacob stopped in at nursing stations at the hospital with the name of the owner to see if anyone knew where to find him, knowing that if the individual was a patient he may have to wait until morning to get assistance, however, luck was on Jacob's side. While speaking to a nurse the owner of the car just happened to be walking by and when he heard that the cat was trapped he agreed to come out to the car with Jacob.
When they popped the hood, they found a very small grey and black kitten sitting on the engine. Happily, Jacob said that he has since adopted the kitten and named him Mazzy because he was found under the hood of a Mazda car.