Windsor Team Helps to Improve Quality of Life for Children Facing Cancer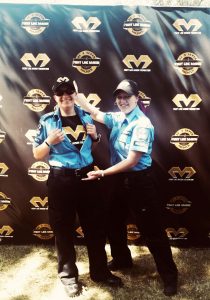 In late July, 2018, Paladin Windsor had the great opportunity to be a part of Fight Like Mason Foundation's Superhero Training Camp held at the Coiciaro Club Field. Our team was contacted by the event organizers through an online request for coverage. As the Foundation's values aligned well with both our personal and corporate values, Jay Lynagh and the team immediately felt compelled to be involved.
The outdoor event was designed to provide children aged three and up the opportunity to explore their "inner hero." This fun-filled afternoon of superhero-themed activities gave the children a unique chance to feel like children again, away from countless hours of treatment. Everyone was encouraged to wear their favourite superhero's outfit and all proceeds from this event benefitted the Fight Like Mason Foundation.
Windsor Branch Manager Jay Lynagh says, "It's always special when you have the opportunity to be a part of something great and what better cause is there than to help kids? It's our pleasure to have been a part of the event and ensure a safe environment for not only these courageous boys and girls but also to see the outpouring of support from the community for their parents, friends and family."
The Fight Like Mason Foundation is a Registered Charity organization formed by Iain Macri and Chantelle Bacon, parents of Mason Bacon-Macri. Mason was diagnosed with Rhabdomyosarcoma, a form of childhood cancer, at the age of two. Iain and Chantelle thought the best way to honour their son is to carry on his name, way of life and legacy in the form of a foundation and turning life-chattering tragedy of losing a child into something positive. The Fight Like Mason Foundation aims to improve treatment, care, quality of life and awareness of patients diagnosed with childhood Rhabdomyosarcoma and other forms of childhood cancer.