The Paladin Family is always proud of team members who start a career in security and, down the road, decide to follow their path into law enforcement. We enjoy sharing their stories for those passionate about pursuing a career in policing that might want to follow in their footsteps. We want to provide insightful information and inspiring testimonials to help them take their security careers where they want with the support and example of people who have succeeded in the area.
Jessica Campbell joined Paladin Security at a very young age. Now she is currently in the process of entering the police force. In an interview with her and with the participation of Paladin's National Training and Development Manager, Jason Magallanes, we had the opportunity to talk about how Paladin can help successful women in security like Jessica navigate the industry. She also gives her advice on making the most out of the Paladin experience and how to take your professional journey to the next level, among other things.
---
To start off, we would love to know a bit of your background. How did you run into Paladin and the security industry in the first place?
I'm from St. Catharines, Niagara, and many of the hospitals there are serviced by Paladin, so I ended up taking a great opportunity in Hamilton and got to grow there really quickly. After a while, I asked to get transferred somewhere where I could learn new skills and grow even more with a bigger team. Paladin made it happen, and that's how I started moving through the ranks.
Did you start at Paladin as a Security Officer? What was your first-last role?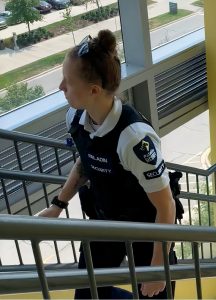 Yeah, I was a Security Officer back then. When I transferred over to a General Hospital in greater Niagara, I quickly moved up there too! I was only there for six months, and then I became a Mobile Supervisor. Within another six months of being Mobile Supervisor, I became Mobile Security Manager. So, I kind of moved up pretty fast, and I had my team and Paladin's support all along the way.
I was working nights when I first got hired as Supervisor. I was there for a while and then transitioned to days. That's when I started as a Mobile Security Manager. I did that for about two years, and then I got a call from my old Supervisor at Niagara saying that he was being transitioned into Client Service Management (CSM) temporarily and that he needed someone to take his position. That's when he pulled me from Mobile to be Supervisor for five hospitals in Niagara.
We're proud of our promotion-from-within philosophy. Did Paladin's culture help you develop professionally, personally, and support your transition into law enforcement?
Oh Yeah! All of my friends work or worked at Paladin; for a period of time, even my significant other worked for Paladin. You kind of become one big family there, and even now, I'm still close with my old Field Managers as well. They all helped me along in my career, and I am very appreciative of their lessons and endless support.
Many members of the Paladin Family make lifelong and meaningful friendships that help them along the way, even when they move to another industry. It is awesome to hear that this also happened to you in your time with Paladin, Jessica!
Paladin's industry-leading training is quite unique. What kind of knowledge, skills, and tools did you get from it that helped you with your law enforcement application? Do you still use some of the skills today?
Maybe Jason Magallanes can attest to this. I was around a lot of different people and various situations. Being able to learn on the run and asking questions freely with such a helpful training team is amazing. Having the team welcome me with open arms and getting to experience many different situations with people who walk in different lifestyles have definitely helped me in my career and my policing path.
Jason Magallanes: It's funny because I trained her specifically! This is always the reward of being in the training environment. Seeing people like Jessica from when they first started with us, going through the training, seeing what the progression is like as you start working out in the field and then being able to attain their goal to where they want to be. It's neat to know that none of them forget where they came from and that they talk about people who helped, influenced, and supported them along the way. That's an ongoing story from a training perspective.
When, how & why did you decide you wanted to pursue a career in policing? Did anyone at Paladin help or mentor you?
You know, that's an excellent question; I'm not too certain when something clicked in my brain. Coming into Paladin, I was super young. I had no life experience whatsoever, so getting all that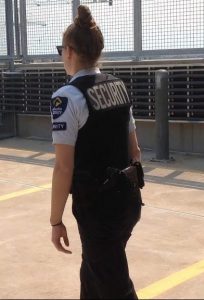 experience and working in many security verticals from different parts of the province made me realize that maybe policing was for me; perhaps I could be good at it. It was also a matter of finding my own confidence and identifying that it was time for me to move on from security.
As for mentors, everyone at Paladin was my mentor! I made some fabulous friends and teachers at Paladin, and I'm not afraid to admit that. My two Field Managers definitely helped me a lot through everything; they were always super supportive of me ever since I joined the Mobile department.
One thing I'll say is don't count anybody out; never burn a bridge. You never know who will be able to help you get where you want at the end of the day. Director of Operations, Paul Walker, who I've known since I was probably 20 years old, ended up giving me a really nice reference letter when I was going through my process with the police service.
What were the things that you loved most about working at Paladin?
The people 100%. I always made friends at all the sites I worked in, I always tried to interact the best I could with people around me. Yes, it is a job, but it's also a fun job if you can make it like that. Some of my best friends I met through Paladin.
From your experience, do you think Paladin is doing a good job of promoting women in the security industry?
I will say that Paladin does its best to give everybody a shot, whether male or female. They do an excellent job of making sure that everyone feels welcomed here and that everyone has the option to stand out; you just have to work hard to achieve it.
What does the world of Law Enforcement look like for successful women like you these days?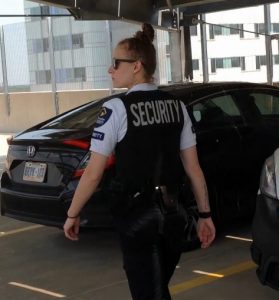 I am not entirely sure yet. I'm still in the middle of the police college, but everyone has been great. I'm in a recruitment class of 24 in my service, and we are six females. We're all really close, we all support each other, and that's something huge. I know it will not be any different once we graduate from police college. We're all going to be super supportive of each other, knowing that we've worked just as hard, if not harder, than any male to achieve the goal of becoming a Police Officer.
Is Paladin's training well regarded or recognized in the law enforcement community?
I think that getting hired these days is all based on life experience and the life experience you can get working at Paladin is next to none. There are many things that I would have never experienced if I hadn't worked there.
Jason Magallanes: They do know about Paladin's training. They know how it is set apart from other security companies because we invest in training and put time into training our Officers before they go out in the field. I think that does help them want to take a look at Paladin candidates that apply for their law enforcement services.
What positions within Paladin do you think are best for law enforcement experience?
A lot of policing is dealing with unpredictable situations and understanding that people out there are going through different experiences. I think just working for Paladin and understanding how to interact with any type of person from any walk of life is a big thing. It doesn't matter what your security role is, as long as you can articulate yourself properly and learn all you can from it.
What piece of advice would you give to someone looking to move up within Paladin and follow your steps into Policing?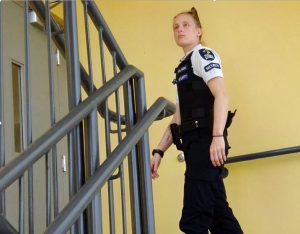 The biggest thing I would say is to keep an open mind. A lot of people get tunnel vision and just focus on what they want instead of looking at the bigger picture on what they could have before they get there. I went into policing because I was confident of my abilities, thanks to my experience with Paladin.
When I decided to pursue my career in law enforcement, one of the comments that I got the most from my coworkers was, "I'm really happy you made it; you set a fire under my seat that made me realize how much I want to get there too." It is really cool to help someone realize that they are ready to take that step; maybe they just weren't prepared to know it by themselves yet.
---
Paladin strives for the constant evolution and growth of its employees. If you seek to expand your skills, knowledge, and abilities to secure employment with a law enforcement agency like Jessica, Paladin will help you get there.
Be sure to listen to Episode 10 of The Difference Makers | A Paladin Security Podcast to learn more about how security experience could lead to a career in law enforcement.
Check out our careers page for all our opportunities within Paladin. We would love to see you take your professional journey to the next level.