Rajeev Tauckoor joined Concord Security as Bike Patrol Security Officer for Willowbrook Shopping Centre in 2008. With his dedication and hard work, he has moved through the ranks of being a Security Supervisor and Manager. And with the acquisition of Concord Security in March 2017, he is now promoted as a Client Service Manager for Paladin Security.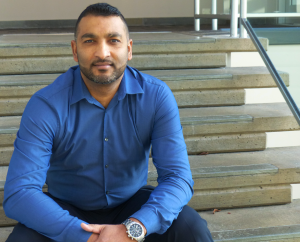 The transition from Concord to Paladin was a positive experience for Rajeev, who feels like he has joined a bigger family. With more resources and departments, putting employees first is still something that has remained a focus.
For those interested in joining the Security industry, Rajeev strongly encourages to go for it, as it provides an excellent opportunity to gain experience and career advancement, just as he has done. Security, to Rajeev, is not what most perceive it to be, the industry is not limited to arrests, reporting and patrolling, but majority of the job includes interaction and customer service, which is an aspect of security that he thoroughly enjoys. To him, it is also a stepping stone to a very rewarding career that never ceases to progress.
Paladin Senior Director of Operations, Chris Currie comments,
We are very excited to add such an experienced person into our Client Service team.  Rajeev's track record for building a strong, happy team at Guilford Shopping Centre will bode very well for the portfolio he will be managing.  As the first former Concord Security professional making the move to the Paladin management team, we hope that this will inspire all of the great staff that have recently made the move to the Paladin Family.
Since joining the Family in early 2017, Rajeev defines the Paladin Difference as showing up each day and taking pride in what one does, as well as showing the community and our clients why we are leaders in our industry. While a new role comes with a learning curve, Rajeev sees his previous experience as an Officer as a valuable asset in the position of Client Service Manager. He is more understanding of other Officers, and can empathize and be considerate of their position and the client side, as he now has experience in both roles. In this new role, Rajeev looks forward to taking on and conquering new challenges that may arise.
Rajeev is a testament of our "promotion from within" philosophy, proving that with the right attitude, dedication to the job, and going above and beyond every task builds into the Paladin Difference.