At Paladin Security, we believe the best way to create a strong team is through employee development and our promotion-from-within philosophy. Through our development programs, an employee can plot their own career path within our organization, lending stability to our workforce. In our bi-weekly feature, Paladin Then & Now, we're showcasing some of the amazing and inspirational stories of our employees rising through the ranks. This week, we're featuring Miraj Islam, Corporate Communication & Content Specialist. 
Mohd (
Miraj) Islam – Corporate Communication & Content
Specialist
Miraj joined Paladin Security in 2016 as a Security Guard and has quickly climbed the ladder since. In his time working with the company, he's been part of the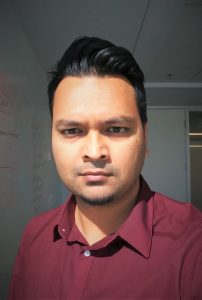 Mobile Response Unit, an Operations Scheduler, Portfolio Resources Coordinator, Business Writer, and now a Corporate Communications & Content Specialist.  
Moving On Up
Miraj said when he first joined Paladin, he wasn't aware of its 'promote-from-within' philosophy, but quickly learned after opportunities that aligned with his goals kept popping up. And his persistent nature paid off; Miraj was continuously rewarded with a role that he was ready for.  
Part of Paladin's culture is to recognize expertise and hard-working individuals who possess it. Paladin strives to the best of its ability to promote those employees whenever possible, and it's something Miraj feels is practiced by every single member of the leadership team. While he has too many mentors to name, Miraj says it's collectively the Paladin Family that has helped him throughout his journey.  
Post-Secondary Achievements
Miraj holds a Bachelor of Science in Foreign Services from Edmund A. Walsh School of Foreign Service – Georgetown University. He says that, along with his previous work experience in Public Relations and Communications in the Middle East, has helped him find success at Paladin. With a major in Culture & Politics, Miraj says he honed the fundamentals of critical writing - which included summarizing content, assessing and understanding guidelines, analyzing previous trends, and comparing sources – all of which is applicable to his current role as a Communication and Content Specialist.  
Transitioning 
From
 Field to Office
While he enjoyed his role as a front-line worker, Miraj says it was bittersweet to go from the field to office work. As an immigrant, working in the field helped expose him to the Canadian culture, and gave him the opportunity to learn about the people, by-laws, cities and towns, rules and regulations, law enforcement etiquette, and so on. He says working on the front-line helped equip him to work in the office, as what he learned in the field complemented his role in the office.    
Paladin Plus
While the open-door policy or accommodating schedule the leadership team has is something Miraj values, it's how the company is always there for you that makes him proud to work for Paladin. Here's what else he has to say:  
"Working with Paladin has been so organic and symbiotic as it has always given me the sense of belonging as Paladin listens, advises, and takes action!" 
Miraj's Piece of Advice 
"Hang in there and keep trying! Know your skills and understand what your strengths are. When an opportunity arises, assess if your strengths allow you to fulfill the needs for the role; at the same time, ensure that the opportunity also allows you to harness additional skills for your future career goals. Finally, convey and explain all of that to the interviewer!" 
Reader Interactions