October is Disability Employment Awareness Month, which encourages and acknowledges the inclusion of people with disabilities in the workforce. As you'll read below, there are many barriers a person with disabilities faces when looking for work. Are my skills being used to the best of my abilities? Is the office wheelchair or disability-friendly? Those are just some of the struggles. Shining a spotlight on it creates awareness and allows us to take action to remove barriers. Read on to see how one Paladin employee was able to find the right fit.
Nick's Story
It's a challenge for Nick Toplass to think back to the time where his life changed forever.
"I've always struggled with putting words to it because… I call it an 'ineffable qualia,' it is an experience so individualistic [and complex in nature] that I can never fully explain in a way that would provide full empathy or understanding in somebody else," Nick says.
Nick is the Senior Proposal Coordinator for Paladin Security. But his career at Paladin would have never happened if it weren't for a tragic accident.
July 6th, 2006.  Nick says just after midnight he was called by a friend who said she was being attacked. When he got there, he could hear screams. Since it was an apartment building and he didn't have access, he decided to climb the balconies to the fifth floor to protect her. But he never made it.
"As I was going up onto that balcony, somebody living on the fourth floor saw me passing by and came out to investigate. But what they ended up doing, or what they noted to police, is that they grabbed my ankle as I was on the balcony above and pulled me, so I fell 55 feet from there. They ended up thinking they had just killed me."
No one called 911, and no help came for over 20 minutes.
"I ended up losing more than a week of memory –as I hit my head going down. What's horrifying, that I learned after, is that at some point, I ended up texting my friend who was up there, and the text just said, "help me", and she didn't know I was down there, but that was the only action that I took."
Nick spent the next seven months recovering at multiple hospitals. He broke over 20% of his bones, including his back in four places, every bone in both his feet and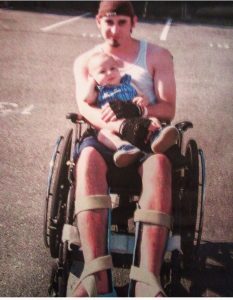 ankles, fractured both his tibia and fibula, punctured a lung, broke various other bones, and injured his spinal cord in two ways, which left him fully paralyzed from the waist down. The impact was also so severe, the shockwaves went up his spine and broke his nose. He says the first memory he has was like something straight out of a movie.
"I opened my eyes and looked around the room and wasn't really comprehending that I'm in the hospital. I think it took five minutes for the nurse to pop in and I was just laying there and not knowing why I was there. I tried to get up but couldn't and so I felt like I was trapped in a body that only slightly worked, so there was a lot of confusion."
The news didn't get better, as the doctors told him he'd never walk again.
"There were definitely dark times, heavy days, trying to figure out what life was at that point. When you have so many injuries and such a change in your body, you go through a grieving process, which is essentially grieving the loss of yourself, so you're shedding who you were able to be and now you're trying to find this new version of yourself and how you can be what you want to be."
But Nick isn't one to let others define him.
"In an odd way, I ended up staying pretty positive throughout everything because I became obsessed with getting to the next goal of recovery, and that was just such a theme of it all, to always move forward."
And seven months after the accident, Nick marked a major milestone. Taking his first steps.
"That was a very memorable moment. It was literally only me and a nurse present, but it was probably the biggest accomplishment I'll make in life, and to this day it feels so weird to say, that nothing will ever match that. I ended up going way too far, taking more steps than I was supposed to, and I was waving at everyone in the hospital unit, and it was like my own parade in a sense. But I'll never forget that."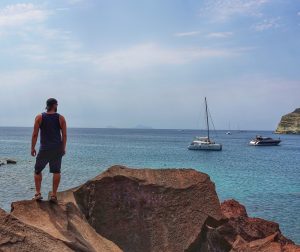 As Nick worked to regain his ability to walk on his own again, he spent the next year and a half in a wheelchair, then transitioned to a cane, and eventually made a full recovery. He said, it made him realize the world isn't set up for a person with physical limitations, and that included the workforce.
At the time, Nick was going to school for Psychology but realized that path needed to change in order to accommodate his restrictions. He decided to work for 911 and BC Ambulance call centers, as he was looking for work that helped out the community but had no physical requirements.  This led him on a path of education through Public Safety Communications and that's when he stumbled upon Paladin Security's Operation Centre.
"In a very short duration, like the first five months, my position changed three different times and I was able to be involved in so many different things right from the start, so it really hooked me. And from there, I kept getting promoted and given more responsibilities, and it got to the point where I was actually managing the whole Operations Centre," Nick said.
Promotion from within is one of Paladin's core values.
"It kind of fed that past ambition of always getting to that next goal, my position kept changing, I kept moving forward, so I became addicted to that progression within Paladin."
Nick joined the company in 2009, three years after the accident. He was able to walk on his own at that point but says, in his 12 years at Paladin, he never once felt unsupported, even if others didn't know his story.
"Initially it wasn't anything that I really broadcasted, and even to this day, most people don't really know it was something that I went through," Nick said. "Over time,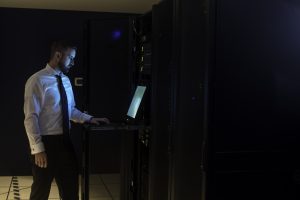 Paladin was just naturally accommodating, so if I needed changes to a chair or ergonomics at a workstation, they were able to provide that without me actually having to go too far into the story or ailments."
Nick said it took a lot of research to find the right career fit, and now wants to help others with physical limitations discover their path more easily.
"It was a huge process for me to find options and I want to find a space where I can help people more quickly find avenues where they can adapt in life and succeed," Nick said.
Meaningful and deeply rewarding careers are still possible for those with physical barriers, and Paladin Security has a variety of roles that can provide this - from the numerous operations centers they manage to corporate positions.
As for Nick, he said the biggest thing that changed for him is his perspective on life.
"It's difficult to imagine life in a wheelchair as everything becomes a new challenge. The world shifts from being familiar to becoming something no longer designed for you. Personally, I took a lot for granted beforehand, including mobility, and never thought I'd be able to cope. Fortunately, though, we are far more capable than we give ourselves credit, we find ways to adapt and thrive again."
Thank you, Nick, for sharing your story.
If you're interested in a career with Paladin, visit the Careers page on our website. Also, click here to learn more about Paladin's promotion from within philosophy.