Each year, the Paladin Family recognizes someone who embodies the dedication and integrity of The Paladin Difference with an annual award that commemorates an outstanding individual who was very special for the team: Tamara Jackson.
About Tamara and our Award in Her Honour
"Tamara first joined Paladin as a Security Officer in 1994. She rose through the ranks due to her commitment to her team, passion for her job, and outstanding integrity. In her final role as Vice President of National Quality Standards & Support (NQSS), Tamara's contributions were far-reaching. Her impact remains in all facets of Paladin Security. She passed away from cancer in 2014, and it was a tremendous blow to all who knew her, loved her, and respected her.
Tamara personified The Paladin Difference. She was extremely committed to delivering the very best service to our clients and showed an unwavering dedication to her team. She had an incredible talent for capturing and cultivating the best in people. While she held her team to a very high standard, there was never any doubt that she was 100% behind them and committed to their success.
She was a true and trusted friend, a highly capable security professional, a mentor to countless people, and a beautiful soul. To commemorate her countless contributions and to celebrate her life, we created the Tamara Jackson Memorial Award. This award, which I feel is one of the highest honours in Paladin, is given to someone each year who has shown incredible dedication and integrity in their work and lives The Paladin Difference every day."  – Ashley Cooper, CEO of Paladin Security Group
This year, the award was presented to Vesna Marinkovic, Payroll & Benefits Manager. Dedication and integrity define Vesna in many ways. She works tirelessly to make her clients, which happen to be all the employees at Paladin, have a great experience. She does her job with a tremendous level of commitment, and she always follows through while having fun and putting a smile on everyone's face. She is known for being humble and expecting nothing in return. These were her words when she received the award:
"I didn't really expect this! I was actually looking around the room, wondering who would get the award. I want to thank all of you guys, especially my amazing payroll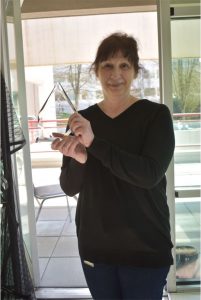 team and Suzanne (Payroll & Benefits Director), for all the help and support that I've had over so many years here. I am thankful for all the great teams that I've been working with, from the Finance team to the Scheduling team, Operations, Marketing, and all the Security Officers. We try to pay our people on time and keep them happy. I really want to thank you all again for everything you are doing for the Payroll team and even for myself, helping me through all these eight amazing years and hoping for many, many more!"
About Vesna Marinkovic
Vesna joined Paladin on June 3, 2013 as a Payroll & Benefits Administrator. In the early years, Vesna was responsible for processing the hourly payrolls for BC and Northern Alberta. In January 2018, she transitioned to a new opportunity as Interim Payroll Manager. Vesna did an amazing job which led to her promotion to Payroll & Benefits Supervisor in June 2020. Vesna continued to develop as a respected leader and most recently was promoted to Payroll & Benefits Manager overseeing the payroll processing for Canada.
Vesna is dedicated, hard-working and most importantly is a Team Player. When Vesna is not working, she enjoys reading, listening to music, exploring the city and going for walks with her husband.
She has proven to be an invaluable team member of the Paladin Family. It fills us with tremendous pride to see so many peers rooting for her and admiring her actions. Just by talking to the people she has touched, we see the positiveness and joy that she brings to the company through her work. These are some of the words that we received from Paladin employees that have had the experience of working with Vesna:
"I'll be honest, every work experience I've ever had with Vesna has always been efficient, timely and thoroughly followed through. I've seen Vesna working weekends, and I've seen her at the office at 7:00 AM and not leaving leave until 7:00 pm+. She'll bend over backwards to help someone out and she'll be precise, honest, and direct if needed. Furthermore, I've found her to be adaptive and open-minded to innovate and improve functions within the organization as well as in her department. She always has an ear out for ideas from staff and cares deeply for her reports. It's simply just a pleasure to speak with her. She's positive, funny, open, and honest."
"I wanted to take the time to recognize Vesna Marinkovic. I have found that Vesna is always there for not only myself but for all my team and, most importantly, the staff in the field. From my perspective, she works tirelessly; she is always positive and smiling. If, for some reason, there are issues, she does everything she can to fix them. She is based out of the Burnaby Corporate office. Throughout all of the change that has taken place with mergers, acquisitions and growth, her work has been flawless."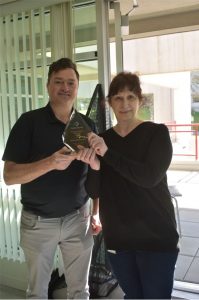 Vesna is a leader who makes a difference every day. She has an extremely bright future, filled with growth ahead of her. Paladin is made of many talented and selfless individuals, whether they are working on the front lines or behind the scenes. We thank them all for their dedication and embodiment of the Paladin Difference. People throughout our company have continued to stand up to lead our organization and our communities through what, for many, will be the one most challenging time of our lives. We could not be prouder of our Paladin team.
Congratulations to Vesna Marinkovic on this unique achievement!
If you want to find out more about our beloved Tamara Jackson, feel free to watch this video from our archives: https://youtu.be/nKAOwZtjvWE?t=79