At Paladin, we always like to feature the amazing stories of our women in security rising through the ranks. These have proven to be an excellent read for women in the industry who might want to expand professionally and follow exemplary footsteps in order to grow in their security careers.
This time around, we had the privilege to talk to one of the most passionate women in security. Diana Drazek is a six-year Paladin veteran who has an exceptional drive for people, customer service and making a difference in her community through The Paladin Difference. She is also looking to pursue a career in law enforcement. She shared some of the most valuable experiences and lessons you can learn in a security career.
Diana spoke a bit about her background and how she ran into Paladin, her first contact with the security industry and how she got there.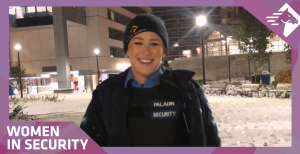 "I was about 20 years old; I was in college, and a couple of friends of mine had mentioned that Paladin was a really great opportunity if I wanted to pursue a career in law enforcement. I felt that it could be a great stepping stone for me, which definitely sparked my interest.
I'm going on six years now with Paladin, and I've worked at about four different sites, and it's been such a great experience. From the time I started till now, I've developed so much professional growth. Since I joined the team, I've worked full time at postsecondary institutions, worked at a mall, and am currently at an office tower. It's been a great ride, and I'm thrilled that I decided to stay with Paladin. I always valued the work we provide, the training that Paladin offers and the fantastic people I've met within the company."
Diana is currently a Security Supervisor. She talked about her first role as a Security Officer and some of her experiences while moving up in her progression within Paladin.
"My first site was in a college as a Security Officer. I was there for about eight months, and I learned all the basic security duties, patrols, writing detailed reports, CCTV monitoring, and built my overall security knowledge foundation. I moved on to become a supervisor at another educational institute which was quite different from being with a big team and rotating. I was there for about a year and a half. Then I had heard from the CSM at the time about a commercial site that was a great opportunity for people interested in pursuing a career in law enforcement, so that really caught my attention. I applied for a Team Lead position which was ideal because it gave me a bit of that administrative role as well. At this location, I was dealing with such a wide variety of people, which gave me a huge boost in my confidence and experience in managing difficult situations. I was there for about three years, and I thought it was time to take on something new and different. That's when I heard about the Adelaide Centre, which is where I'm currently at now. I am a Shift Supervisor there; it's a really great place to work in."
Diana's progression within Paladin is admirable and a shining example of our Promotion-from-within Philosophy!  We asked her if our culture has helped her develop personally, professionally and supported her career in security as well as her aspirations for law enforcement.
"Oh, definitely 100%! I completely agree that a Paladin's Promotion-from-within has really helped me. Just the fact that Paladin sees that everyone has something to offer and that we all have different strengths. I truly feel that Paladin saw my strength, my willingness to learn as well as my enthusiasm and they supported that. I got different opportunities to work at different sites, and it's been a really fun time. Paladin definitely believes in their employees, and that's what I appreciate about the company."
It is inspiring to see how Diana talks about her experience with Paladin. We touched on Paladin's unique training, specialized courses, and continuous coaching and how everyone that is part of The Paladin Family has had many mentors along the way. She also shared how the knowledge, skills, and tools she has gained throughout her security journey have boosted her career in security and contributed to her law enforcement application.
"A lot of the customer-service-based experiences that I've had and the way we approach people have been crucial for my success in a security career. It is the way you carry yourself and the conduct I've gotten from Paladin's training. As you would call it, I am always using the "interview stance" when you're standing in front of someone. Knowing how to make your approach to people and remain professional. I've gotten a lot from the Use of Force training and the situational exercises in the training classes that Paladin provides as well. It really gives you a boost of confidence when dealing with difficult situations. These are some skills that I can definitely use moving forward in my life and my career."
Diana took many opportunities to grow and learn within Paladin. But she didn't always have the confidence to take that next step forward. It was through Paladin's training and mentorships that she built the confidence and skill set that prepared her to take her security career to the next level.
"Actually, when I was working at educational institutions, I never really thought that I'd want to pursue a supervisor position, I didn't think I was ready, I wasn't confident in my skill set, but I remember Jason Magallanes, Paladin's National Training and Development Manager, did a specialized Use of Force training at the site and it was an exceptional session! I took a lot from that; it was really great to see my colleagues and me in a team-boosting exercise as well. Later in the day, Jason reached out to me, and he said there was an open Supervisor position that I should go for. At that time, I didn't even think to put in my application for that position or anything because I didn't feel that my skill set was up to par. But he gave me an excellent pep talk about how it was a great opportunity to grow and learn within the company. After he gave me that push, I thought about it and said, "you know what, I'm going to go for it, it's going to be a good experience," and so it was! No regrets there, and like I said, Jason is definitely a mentor for me in that sense."
Diana has an incredible sense of motivation and initiative. We asked if she knew she wanted to pursue a career in law enforcement before joining Paladin or if it was during her journey with Paladin that she discovered her aspirations.
"It was actually quite a long time ago; I was about eight years old when I first got this idea in my head. I always looked up to Police Officers as role models, and I thought what they did to protect the public and educate people on safety was fantastic. It was always something that I admired. When I was in college, I heard about Paladin from friends whose professors were Police Officers themselves. I was not ready to put in my application to be a Police Officer, and I knew that Paladin could give me that valuable experience and confidence to build my resume. "
During our conversation, we got to talk about some of the things that inspire Diana to bring her best every day and what she truly loves about working at Paladin.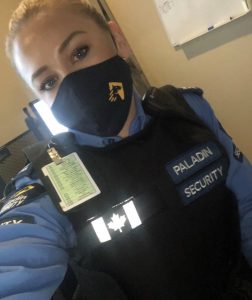 "As for me, it's definitely the culture. I've met so many great people in different age groups, men and women, that I consider close friends of mine. I've made lasting relationships with some of my colleagues, which is definitely one of the reasons why I love working with Paladin. I truly appreciate the training as well; every training session that I've had, whether it's renewing my CPR, first aid, or use of force, has been interactive and an enjoyable time!"
At Paladin, we really take the time and dedication to train our Officers the best way we can. At the end of the day, they are the ones representing The Paladin Way out in the field. It is great to see that Diana embraces this and exercises it every day to make a difference in her community.
She also shared her perspective on having continuous learning experiences and the positive outcome of owning any mistakes that you might make along the way.
"I would say that a big lesson for me has been learning not to be afraid of making mistakes. My whole life, I've had this fear and nervousness of making a mistake and the outcomes that might come from that. If you're afraid of making mistakes, you're not giving yourself the opportunity for growth. You always have the choice to correct them, learn from them and grow. Failure is not always a bad thing; a lot of people fear failure, and I can empathize because it doesn't feel too great when you fail at something, but it's really a learning opportunity to push forward."
We were lucky to hear Diana's advice for people looking to move up within the ranks in a security career, and that might want to follow in her footsteps pursuing a career in law enforcement.
"Well, if you see yourself somewhere, you should just go for it! Take advantage of everything that Paladin has to offer, be professional, put your best foot forward, and be enthusiastic about your work. Every day is different, and we must take those learning opportunities. There are always days when we don't feel like going in for work, or you're tired; maybe something is going on at home. But show up and bring your best because it really makes a difference. People will notice when you put in good work, and that will help you go far whether you want to stay within the security industry or go into law enforcement or anything else that is important to you. Just try to keep a positive mindset, get to know your colleagues, and enjoy the work that you do."
"I truly believe in The Paladin Difference. I feel that Paladin Officers and the culture here show that we're approachable. It is so important to be that way. Our above and beyond customer service is what we are all about. You say hello, smile at people, greet them, and that is how you instill The Paladin Difference. That's why I have stayed with Paladin because we genuinely value exceptional people. I remember when I first started, I got a memo book from Paladin, and when I opened the first flap, there was a powerful quote that stuck with me forever: Making the world a safer & friendlier place."
Amazing people like Diana mark meaningful footprints in security. Our team stands out because of our people-first approach, empathy-led security model, and promotion-from-within philosophy.
The Paladin Family keeps bursting with growth, talent, and commitment that reinforces our values as well as our goals, making us a unique workplace that leads in the security industry. Check out our careers page for all our opportunities within Paladin. We would love to see you take your professional security journey to the next level.