Every year since 2014, The Paladin Family has come together to celebrate a distinguished Paladinian with the Tamara Jackson Memorial Award in remembrance of a beloved team member who left an indelible mark on our hearts and made a tremendous impact on our team.
About Tamara Jackson
Tamara began her career at Paladin as a Security Officer in 1994 and quickly rose through the ranks due to her dedication to her team, her passion for her work, and her exceptional integrity as a woman in security. In her final role as Vice President of National Quality Standards & Support (NQSS), Tamara's contributions were significant, and her impact can still be felt throughout the company. Sadly, Tamara passed away from cancer in 2014, leaving a great loss to all who knew, loved, and respected her.
"Tamara embodied the essence of The Paladin Difference. She was fully committed to providing exceptional service to our clients and showed an unwavering dedication to her team. Her ability to inspire and bring out the best in others was truly remarkable. While holding her team to the highest standards, Tamara's unyielding support and belief in their success were always evident. She was a true and trusted friend, a highly skilled security professional, a mentor to many, and a beautiful soul" – Ashley Cooper, CEO of Paladin Security Group.
To honour her countless achievements and remember her legacy, we created the Tamara Jackson Memorial Award. This award, which is one of the most prestigious recognitions within Paladin, is presented annually to an individual who exemplifies exceptional dedication and integrity in their work while embodying The Paladin Difference and our CARE Culture every day.
If you want to get to know our beloved Tamara Jackson a bit better, watch this video from our archives:
2023 Recipient: Simone Guthrie
This year, the award was presented to Paladin's Health & Safety Officer for Central Canada, Simone Guthrie.
Simone joined the Paladin team in 2019 and quickly made a name for herself as a highly skilled trainer for South-Western Ontario. She achieved certifications in Management of Aggressive Behaviour (MOAB), Nonviolent Crisis Intervention (NVCI), Use of Force (UOF), First Aid, and Modern Warrior.
Her hard work and dedication paid off in June 2022 when she was promoted to Health & Safety Officer. In this role, she's been doing an amazing job making our workplace safer and healthier! With her help, we've been able to constantly improve our safety management system. Plus, her guidance and support have ensured that everyone on the team is fully committed to keeping safety a top priority.
"Winning the Tamara Jackson Memorial Award is a great honour, and I am filled with gratitude. To be recognized for this award is a powerful reminder that staying true to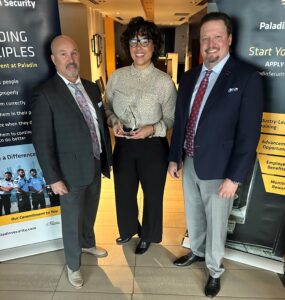 oneself and having faith in the journey can lead to recognition, regardless of one's quirks and uniqueness. I am blessed to work with such a patient, kind, empathetic, encouraging, and genuinely funny team. It is a pleasure to come to work each day when you work with the best. There's a quote I once read: "Make a list of all the things you want from your employer... Now be that!" Although I never had the chance to meet Tamara, from what I've heard, she embodied that mentality, and I will continue to do the same," said Simone.
Before joining Paladin, she was a business owner and a personal trainer. She is a brilliant individual who often has a youthful energy and outlook. Simone has a passion for food and cooking and is a self-proclaimed foodie. She also plans to become an Airbnb Superhost in the future. In her free time, she enjoys dining at Instagram-worthy restaurants, reading Julia Child recipes, watching "Diners, Drive-Ins and Dives," and working out to balance her love for food.
Simone truly embodies dedication and integrity, making her a deserving candidate and winner of this year's Tamara Jackson Memorial Award. We are proud to have her on our team and honoured to recognize her achievements with this prestigious award.
Congratulations Simone!
See some of our previous award winners: Simran Gill and Vesna Marinkovic!
---
At Paladin, we recognize our successes through our CARE Culture and celebrate our Diversity! We are proud to be part of Canada's Best Managed Companies, Hall of Fame of Canada's Most Admired Corporate Cultures, and a three-time Forbes Magazine "Best Employer." We also recently won the Outstanding Contract Security Company Award from the OSPA.
If you're interested in joining our team, check out our careers page!