At Paladin, we're all about helping our team members grow and reach their full potential. The first value of Paladin's C.A.R.E. culture is to be "Curious" by seeking opportunities to learn and improve. We believe that investing in our employees is the key to building a strong, successful team. Through our Promotion-from-within philosophy, employees can plot their career paths within Paladin. Our goal is not just to fill shifts; it's to nurture careers and professionalize the security industry.
In our feature, Then and Now, we showcase the inspirational journeys of our Paladinians rising through the ranks. This week, we're thrilled to feature the story of Masih Omate, one of our Client Service Managers.
Masih's Paladin Journey
It all began when Masih was on the hunt for exciting new opportunities in the security industry. One day, he came across an ad for Paladin Security and decided to give it a shot by applying for a Security Officer position. He met with the Client Service Manager and the client, and after the interview process, he was thrilled to start his security journey in downtown Calgary.
For the next six months, Masih worked on-site and made it clear from the get-go that he was always open to new opportunities, even if they seemed out of reach. As he put it, "I see it as a learning opportunity, and I'm not one to shy away from a challenge."
After his experience in security, Masih decided to branch out and try his hand at healthcare operations. And you know what? He nailed it! He got selected for the position and couldn't be happier. As he put it,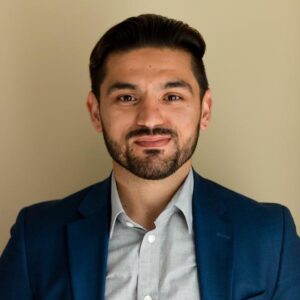 "This role really brought out my creative side in the workforce. Management gave me the freedom to make decisions, which showed me that they trusted and supported me."
But Masih wasn't content to rest on his laurels. Shortly after, he applied for a new challenge, a position in scheduling called Healthcare Scheduling Supervisor. Even though he didn't get the role, he was eager to try again. He sat down with the Operations Manager and Director of Operations to share ideas, and from that meeting, they created the Security Programs Manager (SPM) position.
As the SPM, Masih had the opportunity to continue learning and growing. He was able to ask questions, understand things better and make mistakes without fear of failure. He was also given room to improve and learn as he went. A year later, Masih was successfully promoted to Client Service Manager.
"The moral of the story is that you should never be afraid to go for what you want. You might hear 'no' sometimes, but it's all a learning opportunity, not a setback. I'm always on the lookout for ways to improve, and I think asking questions and accepting constructive criticism is crucial," said Masih.
Culture Meets Promotion from Within
According to Masih, it all comes down to the culture and having the right people support you. Being self-motivated and driven is essential! "Self-motivators are the ones that tend to reach the highest levels. If you don't have the drive, you'll be less likely to succeed. Make sure your voice is heard. I'd never had coaching opportunities in the past and one on one mentoring. Here at Paladin, we have a healthy culture and a strong belief in promotion from within."
Masih was thrilled to discover that his colleagues and management recognized his potential and were eager to help him sharpen his skills. He realized that this was a workplace culture that truly valued and appreciated its employees. Through mentorship and training opportunities, Masih felt he had the support and guidance to grow and develop. The management team even took the time to share what roles they thought he would be a good fit for, which helped Masih see a clear path for his future at Paladin Security. With so many different options available, it was easy for him to say, "This is my roadmap. Now, let's figure out how to get me there. The advancement and educational opportunities here are endless and a huge bonus."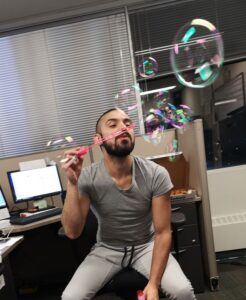 Paladin's CARE Culture is one of Masih's favourite things about working at Paladin. He is always learning new things each day by being Curious. He shows his Accountability by being open with his teammates and working closely as a family. Respectful by embracing an open-door policy and welcoming everyone to ask questions without judgment, and Exceptional in showcasing his natural leadership and helping others achieve their goals.
Advice to Move Up the Ranks
For Masih, personal growth is all about creating your own path and taking charge of your own development. He's always happy to share his own experiences and offer guidance to others looking to do the same. As he puts it, "You just have to be willing to step out of your comfort zone and take a chance. I can show you the way, but ultimately, each person needs to have a clear idea of where they want to go. My advice is to draw a roadmap for yourself and try something new that scares you every day."
Masih also emphasizes the importance of having a clear "why" factor. For him, his family is his biggest motivator, and he makes sure that his decisions and plans align with that motivation. He advises others to find their own "why" factor and use it to stay motivated and open to new opportunities.
"Don't be afraid to ask questions and speak up! When you put yourself out there, being self-motivated enough to take on new challenges speaks volumes. When you see that position open, go for it, and if you get a no, ask where you can grow. Take a seat at the front of the class, and don't be afraid to hear no; you have to get out of that comfort zone of always hearing yes."
Thank you for sharing your inspirational security journey Masih! We can't wait to see where you go next.
---
If you were inspired by Masih's story and are interested in starting a meaningful and rewarding career in security, check out our careers page.
If you want to jumpstart your security career, learn How to Become A Security Officer. Unsure about how to submit a strong resume for a security position? Here is a free downloadable template to write the ideal Security Guard resume.
Listen to The Difference Makers podcast and read our blog to learn more about us and the exciting world of security.
View this post on Instagram
View this post on Instagram
View this post on Instagram
View this post on Instagram
Reader Interactions