Sticking to a healthy diet can be difficult under normal circumstances and particularly challenging for security guards who may have irregular work schedules and limited access to cooking equipment. Most security professionals work long hours and can find it hard to get proper nutrition during the workday. In today's fast-paced society, nutrition is as vital as ever. This article will share some helpful nutrition tips for security guards and proposed plans for a healthy diet while on duty.
Healthy Meal Choices for Security Guards
A key tip for maintaining a healthy diet as a security guard is to plan and prepare your meals in advance. This is a common strategy among people trying to eat healthier and can be especially helpful for those with limited cooking resources. By preparing a week's worth of meals at a time, you can ensure that you have access to healthy options even when you are on the job.
As a security guard, it is crucial to focus on incorporating lean protein, high-fibre foods, and complex carbohydrates into your meals. Lean protein (such as chicken or tuna) allows your body to get what you need without excess calories and fat, which can be helpful if your job requires sitting for long periods. This is a great tip if your role involves watching CCTV cameras or working behind a desk in an office/commercial tower.
Sugary foods such as chocolate bars and cakes offer forms of energy that hit the bloodstream straight away, making us feel recharged. But these forms of energy are a "fast burst" and often will lead to feeling tired, burnt out, and nauseated after their short-term effects. In the workplace, the short-term dehydrating effects of caffeine, salt-laden and fatty foods are strongly linked to a reduction in mental performance and headaches. In the long term, employees indulging in too many processed foods are at risk of developing a range of severe health issues (http://www.healthyperformance.co.uk/nutrition-at-work-how-you-can-help-your-employees/).
Snacking is Important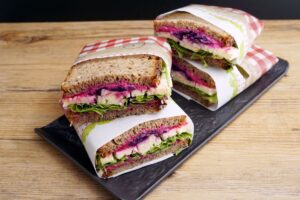 Everyone loves snacks, but while snacking can be an enjoyable way to take a break, it is important to be mindful of the types of snacks you choose if you want to maintain a healthy diet as a security guard. Many low-quality and readily available snack foods can be high in calories, fat, and sugar, which may not be super beneficial for you or your job performance. Salty, fatty, or sugary snacks from the vending machine may give us a quick boost, but they are only slowing us down in the long run.
Instead, opt for snacks high in protein, fibre, and complex carbohydrates. Nuts, for example, are a good source of healthy fats and fibre and can help you feel satiated. Hummus is another option, and you can make it more nutritious by pairing it with vegetables like carrots or celery sticks instead of chips. It may not always be the most exciting choice, but paying attention to your caloric intake is an important aspect of maintaining a healthy diet as a security professional.
What to Drink as a Security Guard
Maintaining proper hydration is crucial for staying alert on the job as a security guard. Water is the best choice, and you can add some flavour by infusing it with fruit or herbs like cucumber or mint. If you find yourself relying heavily on coffee, consider switching to herbal teas, which can provide a boost of energy without affecting your focus and help you avoid those "crashes" during the early or night shift. Some herbal teas, such as those containing ginseng, have natural stimulants that can help improve alertness.
Remember to eat properly and drink adequate amounts of hydrating fluids. It is essential to set up a routine for yourself so that you do not miss meals and always have sufficient quantities of fluids available.
Some Benefits of Eating Healthy
While we all work in fast-paced, high-demand environments, being prepared for your job and staying healthy is what makes you stand out from others.
Here are some easy-to-prep and easy-to-pack meals that can help you eat healthy "on the go" as a security guard.
Feel free to research your own meal preparations!
STAY SAFE OUT THERE!
---
For more security safety tips, read these helpful articles! Paladin's company-paid and on-the-job training ensure that newcomers to security are ready to perform with the tools and confidence they need to succeed. If you are ready to jumpstart your career in security, check out our careers page.
Here is a downloadable template and helpful guide on how to write the ideal Security Guard resume.
Be sure to listen to The Difference Makers podcast and read our blog to learn more about Paladin and the exciting world of security.