When it comes to parking management and security, there are many things that go unnoticed. For instance, have you ever wondered about the amount of work and operational requirements that go behind managing these types of facilities? They often come with big challenges that require a good plan to turn them into successful and functional businesses. The truth is that the parking industry has evolved with business intelligence at its core, and today it features some of the world's most dynamic and leading-edge technologies.
Want to manage your parking areas more effectively? We have put together a list of resources and best practices to help you run your parking business at its full potential:
Parking Patrolling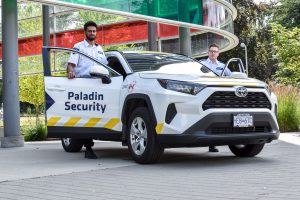 Having Enforcement Officers patrol your parking lots is a standard method to increase the safety of those using your facilities. An authoritative presence can serve as a powerful deterrent to crime. Adding on-site or mobile security patrols in parking facilities can significantly enhance security. As the leading training organization within the security industry, Paladin Security is committed to providing training to our Security Officers and supporting them with continuous education so that they are equipped with the best tools and knowledge to succeed in their roles.
The Use of lighting
There are several advantages that come with the good use of parking lot lighting. The safety of pedestrians is one of the most important ones, but it can also include advances in design, professional status, and the attractiveness of a business.
Your facility should have bright illumination for driving and pedestrian areas, but also needs to minimize shadows beyond these areas. Stairwells, elevators, areas of refuge, and the exterior parts of parking garages are all high-risk locations that need to be properly illuminated.
Consider lighting for daylight driver safety, too. The contrast between bright daylight and a shadowed garage can cause momentary blindness for drivers entering. By over lighting entrances to parking garages, you can minimize the risk of this transition.
Overall, parking area lighting might seem like an extra mile to go, but in fact, the extra mile you go will heighten the level of safety, security, sense of environment, design, and professionalism a business already has.
Surveillance System Implementation
Where there is greater visibility, there's less crime. In addition to measures like access control, landscaping, and adequate lighting, installing a CCTV system makes it easier to monitor activity within your parking areas. This is one of the tools that can make your Security Officers exponentially more responsive to potential threats. It also helps to get a wider view of your facility and obtain useful feedback.
One way to improve CCTV systems is by installing Voice-Activated Security Sound systems. With VASS, loud/distinctive noises activate all CCTV cameras in the area and immediately focus on the activity at hand.
Concord CTRL

– Parking Management Simplified.
Imagine if you could manage your parking all in one place, from anywhere, and at any time. The Concord Parking team has developed a simple virtual dashboard that gives you access to all of our parking solutions. Concord CTRL is parking made easy for employees, residents, tenants, and visitors. You can access cloud-based real-time data regarding transactions, ticket status, and available tickets on your computer or mobile device.
Some of the main features that make Concord CTRL a game-changer in parking management solutions are:
Monthly Permit CTRL – It allows you to purchase permits through your personalized branded online portal. Manage your own profile and save administration time and money.
Tenant Management CTRL - Tenants have the ability to self-manage their own parking permits. Landlords can allow tenants to self-manage their employee/guest parking permits. Empowering tenants is the way to go!
Validation CTRL - Create and allocate day permits to customer profiles and vehicles, so you don't have to worry about non-registered guests taking up valuable parking spaces. This is super useful for online guest pre-registration for upcoming events and assigning designated parking spaces.
Enforcement CTRL - Manage violations and disputes with ease and access to on-demand information. Generate real-time reports and control the data that you want to see.
One of the great things about Concord CTRL is that it is completely white-labelled and customizable with your organization's branding. Show your brand! Also, its modular pricing is based only on the features you use.
Try it for free, or book a demo to see how Concord CTRL can improve your business.
Emergency Communications/Equipment (phones, panic buttons)
Emergency phones and panic buttons are easily installed and highly effective at making parking areas safer. The presence of these safety tools can help to discourage crime and ensure help will swiftly arrive in any type of emergency.
Emergency phones give lot patrons direct access to security personnel when they need help. If a panic button is pressed, it triggers an alarm that immediately directs security personnel where the emergency is happening. For attacks, accidents, and health emergencies, these tools empower your users and help your Security Officer to be even more effective.
Facility Maintenance
A well-maintained parking area adds to the functionality, aesthetics, safety, and branding of your business. Sometimes property managers and owners tend to focus more on general building maintenance, but there's a lot that goes into keeping parking lots well-groomed. After all, it is a part of your property's facade.
Here are some of the major maintenance activities required for proactive parking lot upkeep:
Striping - They provide directions for organized traffic flow, indicate accessible parking spaces, and clearly outline parking spots. This kind of job is typically performed by professional line-striping contractors.
Paving - The most common choices for parking lot surfaces are either asphalt or concrete, with each material having its pros and cons. A properly paved parking lot should last from 20 to 30 years.
Sealcoating - Whether asphalt or concrete, treating the surface with sealant (seal coating) helps preserve the resilience of the pavement, and minimizes the effects of continuous freeze-thaw cycles.
Addressing drainage problems - When rainwater does not drain quickly from your parking area, it can cause several problems like shortening the lifespan of the paving, increasing the risk of trips and falls, breeding unsanitary conditions (especially in underground parking areas), and damaging vehicles and surrounding infrastructure.
Whether you're running a small, medium, or large parking facility, we hope that this guide helps you develop and implement purpose-built, end-to-end parking solutions. Improving the experience of your customers and employees should always be on your mind.
Maximize your efficiencies and cost savings by combining Concord Parking solutions and technology with our existing onsite Paladin Security resources and services.
For more Safety Tips around the security industry, make sure to read these helpful articles!