Ensuring that airports run smoothly is no easy feat, especially around the holiday season. Providing safety and security for such massive public spaces with constant traffic and extended facilities, allows airport staff to perform their job of providing aircraft support services, passenger services, and making sure all domestic and international traveler services run properly and uninterrupted. While being an airport Security Officer entails a lot of responsibility, it can also be an extremely rewarding experience.
This blog will cover:
What Security Officers do at airports
How to become an Airport Security Officer
The requirements for a security job in your area
Do airports offer competitive wages to Security Officers?
How to start your career as an Airport Security Officer
What do Security Officers do at airports?
Airport security officers have many duties but some of their main priorities include:
Access Control
By their nature, airports are considered critical infrastructure and may be the target of terrorism or attempts to disrupt business continuity.  Because of this, there are legislated restricted and sterile areas which are separated from public areas by what is known as the Primary Security Line or PSL. The airport Security Officer's role is to ensure that only authorized individuals have access to these areas beyond the PSL.
Public Engagement
Involves assisting airport guests when arriving at the airport and ensuring they get to their airline safely. This includes arriving passengers getting from the airline to their vehicles/alternative transport, answering questions, monitoring, and managing queues.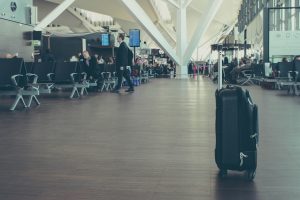 Public Engagement Security Officers are trained recognize odd or unusual behaviour, as well as things that are out of place, such as unattended luggage. While travelling can be a stressful experience, a well-trained Public Engagement professional has the opportunity to make a memorable and positive impression on what is normally the first or last part of a traveler's final destination.
Safety
Monitoring terminal building, aircraft loading aprons, and perimeter for safety concerns and suspicious behaviour. For more about identifying suspicious activity, read our If You See Something Say Something® blog post.
Ensuring all tenants and guests are adhering to the regulations laid out by Transport Canada and the aerodrome operator.
Patrol
Regular patrolling of airport property as a security presence and safety check are some of the routines tasked for a Security Officer.
Monitoring
Larger airports often require constant security services in operations centres often referred to as Security Operations Centres or Security Command Centres.  They will monitor the surveillance systems and respond to a variety of electronic signals from intrusion, panic, and environmental alarm systems around the facility. Each type of event will require a unique set of investigation procedures and reporting requirements. In some airports, Security Officers can also play a role coordinating non-traditional security services, such as coordination of de-icing and refueling activities.
Emergency Response
Airport Security responds to emergency situations and acts as incident commander until relieved by first responders. In some airports, Security Officers are also tasked with detecting, responding, and managing emergencies from a Security Operations Centre (SOC), which may include the use of an Emergency Notification System. Some examples of emergencies include more routine responses to suspicious or aggressive persons, potential breaches of the PSL, as well as more infrequent critical events such as terminal fires, active threats, natural disasters, and even aircraft accidents.
Pass Control Administration
A significant part of providing access control involves the visual and/or electronic routine verification of security credentials of various stakeholders who work at the airport and frequently pass back and forth between the PSL. These security credentials are unique to each person and formally referred to as a Restricted Area Identification Card (RAIC) in Canada, which includes photo identification combined with an electronic access card.  In addition to checking credentials as a form of access control, Security Officers can also be tasked with administering the original security clearance applications, as well as programming access rights or privileges within electronic security systems. Due to the confidentiality and sensitivity required to work with the personal information required to create these credentials, Security can also be responsible to create and manage these credentials within airports.
Assisting CATSA (Canadian Air Transport Security Authority)
Security Officers will have varied interactions with tenants and stakeholders in the airport environment.  Mainly, security will assist the CATSA contractor during emergency incidents, overseeing the situation on behalf of the airport authority and ensuring mutual aid is contacted.
How to Become an Airport Security Officer
Applicants must meet or exceed the following requirements in order to become an airport Security Officer:
Training
BSOT (Basic Security Officer Training) and Valid Security License.
Customer Service
Crisis Intervention
Crowd Control, bag searches and other basic security skills, including but not limited to report-writing and patrol procedures.
Specific Aviation Security training once hired.
At Paladin, we also provide all airport Security Officers with additional training as part of our customized Aviation Security Training Program.
Age
Generally, for applicants to be considered they must be at least 19 years of age, depending on the province they are applying in.
Useful Experience
Preference for previous customer service roles and skills relating to guest satisfaction.
Airport experience is always beneficial.
Other Specifics
Must be able to obtain Transport Security Clearance. Granted by Transport Canada after submitting fingerprints and unbroken 5-year history of residence, education, and work history.
Patience is a virtue! Clearance includes a full background check and can take some time.
Requirements for an airport security job in your area
The requirements listed above may vary based on your location. Read our full details on becoming a security officer or look for airport security officer job postings in your area to see exactly what type of requirements, certifications, and training are required.
The airport environment has many rules and regulations dictated by specific measures and acts by Transport Canada.  It is important that security is held to the highest standards as they are responsible not only for the guests but other tenants' adherence to these policies. That is why customer service experience and people skills are useful for this role.
Do airports offer competitive wages to Security Officers?
Serving airport operations involves being in a huge teamwork environment with many stakeholders. Because of the critical infrastructure and high-profile nature of the role, Security Officers at airports enjoy a competitive wage. It can be a fulfilling and rewarding job.
Interactions with stakeholders, the public, and gaining knowledge of airport procedures, really prepare security officers for growth opportunities. Many airport Security Officers have developed successful careers in security management, airport operations, emergency management, and policing.
How to start your career as an Airport Security Officer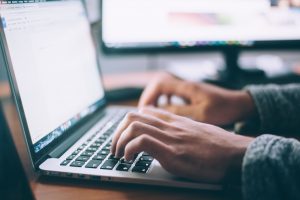 Paladin provides security services for Victoria International Airport, Kamloops Airport, Prince George Airport, Ottawa International, and Halifax Stanfield International — to mention a few. You can start by looking for airport security opportunities on our careers page
Remember that your resume should include your education, any relevant training or experience, and skills. We mentioned some useful ones in this article. Make sure there are no spelling mistakes on your resume or cover letter and try to keep a professional and formal language.
Paladin Security offers security job placements and training that goes beyond current industry standards. Our program ensures each officer is ready to perform as soon as they arrive at their locations. Start your career as an airport Security Officer with the tools and confidence you need to be successful.
Unsure about which security role is the best for you? Take our quiz to find your fit with Paladin!
Reader Interactions