Winter season is upon us, with some areas already seeing heavy snowfall. Working in cold conditions brings a unique set of hazards, potentially more so than any other season, especially for Security Guards that spend large portions of their shift outdoors. It is extremely important to be aware of these hazards and how they may affect you and your coworkers to understand how to prepare yourself for and safely work in cold/winter conditions.
Signs of Cold Stress
Cold stress can lead to hypothermia. This usually happens slowly, and workers may only realize they are in danger once it's too late. Feeling cold is the most crucial warning sign to note. There are three stages to hypothermia:
Mild: - Shivering; grogginess, poor judgement, or confused thinking.
Moderate: - Violent shivering; inability to think or pay attention; slow/shallow breathing; slurred speech; poor body coordination
Severe: - Loss of consciousness; little or no breathing; weak, irregular, or non-existent pulse.
If you notice any of these symptoms in yourself or another officer, it is imperative that you remove yourself from the cold and notify your Supervisor or Manager immediately. Depending on the stage you are in, you may need urgent medical care.
*Source – WorkSafe BC - https://www.worksafebc.com/en/health-safety/hazards-exposures/cold-stress
Reducing Risk of Cold Stress
Dress appropriately for the weather conditions.
While your employer may provide toques, jackets, and long pants, it is the employee's responsibility to provide any additional items to ensure their comfort when working in the cold (i.e. gloves, thermal shirt or long underwear)
Consider adjusting outside tasks where able.
Reduce the number of exterior patrols or length of exterior patrols to limit time spent outside.
For outside positions – consider rotating personnel between outside and inside positions regularly to limit exposure to the cold and allow workers to warm up inside.
Where the option to rotate into indoor positions are not available, a warming shelter should be made available in cold weather conditions for workers to warm up.
When working in cold weather conditions with a team, keep an eye out for your teammates exhibiting symptoms.
If working alone or in isolation in cold conditions, it is even more important to follow your company's procedures and check-In regularly and on time.
Report signs of or concerns about cold stress in yourself or your coworkers to your Supervisor, Manager, or Operation Centre immediately.
Notable Cold Weather Hazards
Areas that have accumulated a large quantity of snowfall requiring immediate attention.
Gates, doors, or locks that are frozen due to cold temperatures.
If you cannot secure an area or frozen gate, contact the maintenance department for further instructions.
DO NOT attempt to force a gate, door, or lock to close if it is frozen.
Unpredictable and/or dangerous driving conditions if you work as Mobile Patrol.
Drop your speed to match road conditions and maintain a safe following distance.
Watch out for black ice.
See and be seen – always use headlights in low visibility conditions, such as snow and rain.
Slips, Trips, and Falls
With the change in seasons comes colder and wetter weather conditions, less daylight leading to lower light conditions, which result in an increased risk of slips, trips, and falls.
Security Guard should always have situational awareness and scan the area for potential hazards that may impact the client's staff and visitors. Though we may sometimes separate ourselves from those we are working to protect, it's important to view how hazards may impact a client, yourself, and the rest of the team.
Mitigation of Slip, Trip, and Fall Hazards:
If you notice a slip, trip, or fall hazard, do what you can to avoid it, make a note of it in your logbook, document it, and most importantly, REPORT IT to your Supervisor and the rest of the team so everyone is aware:
Slip Hazard: Placing a wet floor sign or cordoning off a wet/slippery area caused by a spill or a leak and reporting to Janitorial / Maintenance to resolve.
Trip Hazard: Removing, if safely, any trip and fall hazards from pathways (Ex. small items such as a backpack or cable). If unable to remove a trip hazard, such as uneven pavement or raised/wrinkled carpeting, mark the risk as much as possible with signage or a safety cone.
Insufficient/Low Light: Insufficient light and poor visibility reduce our ability to identify hazards and increase the chances of slipping and tripping. This hazard should be shared with your Supervisor and team.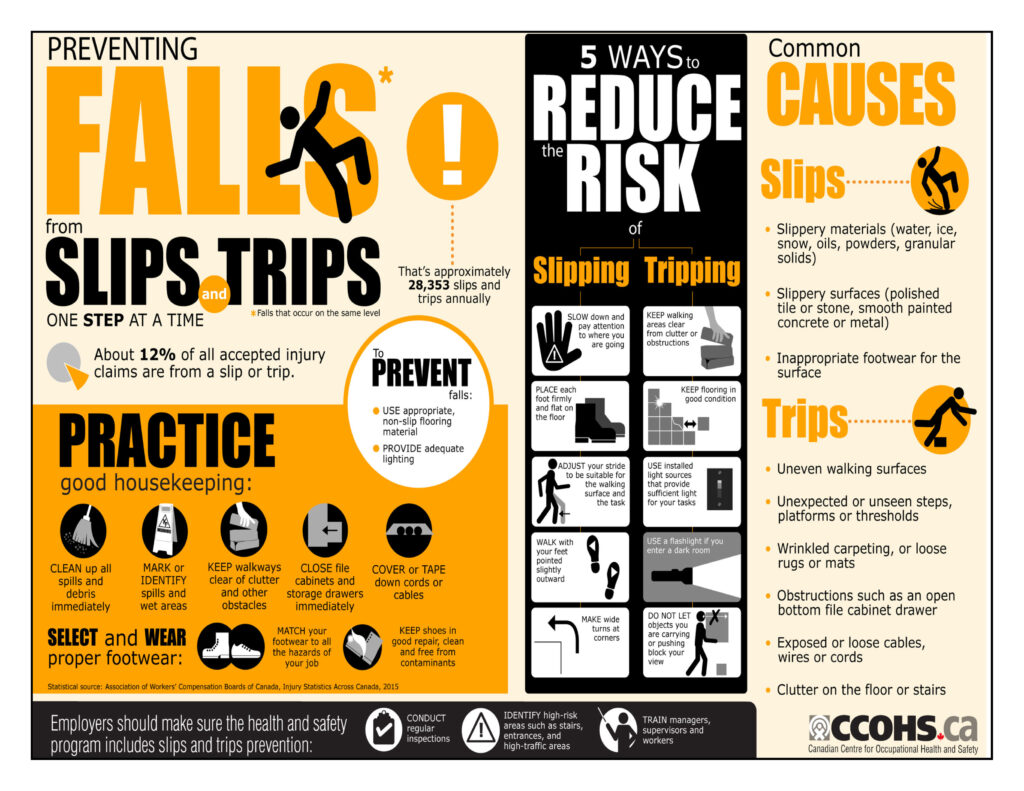 Injury & Risk Strategies
Stretch - While this may not reduce the chances of slipping, tripping, and falling, conducting proper stretches before patrolling can help reduce the chances of sustaining an injury.
Wear Proper Footwear - Footwear should be in good condition with visible tread. Slip-resistant footwear is recommended, especially in the colder/wetter months. In outdoor snowy/icy conditions, ice cleats may be required as part of preventive measures to keep you safe.
Don't Rush, Walk with Care - While you may be tempted to rush to an incident or call, it is essential to be mindful of the conditions and walk at a safe pace.
Avoid Shortcuts - It may seem practical to walk off the paved path or cut down a grassy hill to get to your next patrol point, but the minutes (or seconds) you save are not worth the potential pain and disability of serious injury.
Hold the Handrails - It is important to remember always to keep 3 points of contact when walking up or down stairs. That means you should always have your feet planted on the stairs and at least one hand on the railing.
No Distracted Walking (Cellphone Use): With the prevalence of modern security check-in systems, cell phones are becoming a useful tool for Security Officers to use in the field. However, much like with driving, looking at your phone while walking or going downstairs can be very dangerous. If you need to check the location of your next checkpoint, stop walking and ensure you are in a safe place that does not cause a hazard to yourself or anyone else.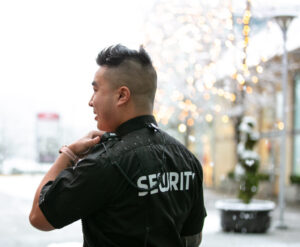 Preventing cold weather-related injuries starts with simply being mindful and careful while conducting your regular duties. It is important to take your time, focus on the task at hand, carefully assess your surroundings for hazards, make sure you are using proper equipment, and avoid taking those unnecessary risks.
STAY SAFE OUT THERE!
---
We hope you find these tips helpful when working in cold conditions as a Security Guard. For more safety tips, read these helpful articles! Paladin's company-paid and on-the-job training ensure that newcomers to security are ready to perform with the tools and confidence they need to succeed. If you are ready to jumpstart your career in security, check out our careers page and read our blog on how to become a security guard.
Here is a downloadable template and helpful guide on how to write the ideal Security Guard resume.
Also, be sure to listen to The Difference Makers podcast and read our blog to learn more about Paladin and the exciting world of security.