"Security is not a product, but a process."
- Bruce Schneier
Modern security equipment and gear are designed to help security professionals complete their job to the highest possible standard. There is a lot more to the tools that Security Officers use daily to keep our communities safe and make the world a better place.
Paladin has earned a national reputation as the leading training organization within the security industry. It is part of our C.A.R.E. culture of being Curious, Accountable, Respectful, and Exceptional. We take great pride in teaching others who may not have had previous experience in security to know how to help others, care for themselves, and create a safe environment. We call it the "give-back approach." We are helping security professionals understand the tools and techniques needed to manage critical situations that may arise in a security career and become the everyday heroes that they are.
That is why we have created this monthly mini-series to showcase some of the equipment/gear that our Security Officers are using every day to help them go above and beyond and instill The Paladin Difference. Our previous topics were Naloxone, Flashlights, Radios, Deportment, and Duty Belt. In this episode, we will take a slightly different approach and expand on a critical skill that should be engraved in every security professional: Situational Awareness.
What is Situational Awareness?
Situational awareness is the ability to quickly gather information about your surroundings and use that information to make smart decisions and avoid dangerous situations. It's a skill that can be developed through training, practice, and experience. Our knowledge, experience, and education enable us to understand what is going on around us and help us to determine if it is safe. This means that everyone's situational awareness is individual and potentially different. We use our situational awareness to make decisions and take action.
Why is it Important?
Because situational awareness helps you stay alert to your surroundings. It is one of the most useful skills a security officer can have. It helps keep them safe and aware of their environment, so they can be prepared for any threats or dangers that may arise. It also helps them notice when something doesn't seem right—a sign that something might be wrong or someone might be a danger to themselves and others.
Here are some questions to ask yourself when practicing situational awareness:
What am I seeing? Is there anything unusual? Is anyone acting suspiciously?
Where am I located? Do I know how to evacuate staff/public if there's an emergency? Do I know where the exits are located? Is there anything blocking my exit routes?
How are other people reacting? Does something feel "off" about this situation?
Safety Starts with You!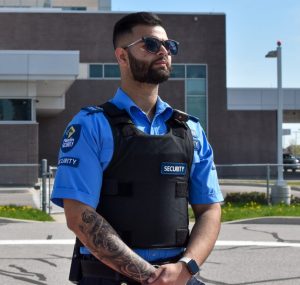 As security professionals, we need to understand some basic rules for safety that are also essential for practicing situational awareness:
Complacency: Not paying attention to your surroundings can get you or your team hurt. Expecting that anything can happen is the first rule.
Be prepared for anything: Regardless of your job, duties, or how inactive your work assignment may seem, never underestimate the possibility of danger or risk.
Training: This will help you to keep your skills sharp and ready to respond to situations, even if the likelihood of them occurring is low. Security incidents are more of a matter of "when" than "if" they happen.
Always have a plan: Not just plan A or B but a few plans. That way, your response to situations is more fluid and with less chance for hesitation when others expect your help.
Breathe and relax: With everything said, you must be able to stay calm, be relaxed, and focus on your breathing. A tense body and a clouded mind may result in delayed responses. Reduced blood flow and oxygen to muscles can also make movements slower and cause tension.
Check List for Confrontation
If you're a security professional, you're probably going to come across situations where you have to confront someone. It's a part of your job that can be intimidating, but it's also an opportunity to practice your situational awareness and use your training to diffuse a potentially dangerous situation.
Here are some tips for handling confrontations:
Positive Self-talk: Create a positive mindset as the body always follows the mind.
Survey the Hands: What is that person doing or not doing?
Check the Area: What does the area look like? Dark, narrow pathway, uneven surface, dead end?
Mental Plan of Escape: Where can I go if things become unsafe?
Allow Enough Space: Keep a reactionary distance. The more space, the safer you can be.
Identify Unique Characteristics: What is the person's body language telling you? Fighting stance? Closed off? Hiding something?
45 Degree Stance: This position provides better balance maneuverability and is seen as non-aggressive.
Deep Breaths: Allow oxygen to the brain and muscles to avoid stiffness.
Caution: What aspects should you consider for your safety?
---
We hope you find these tips and information useful for your security career. Paladin's company-paid and on-the-job training ensure that newcomers to security are ready to perform with the tools and confidence they need to succeed in their field. We'll even help you prepare staff for provincial licensing exams and tests. Our C.A.R.E. culture encourages our teams to be Curious and continue their training throughout their careers at Paladin and beyond.
If you are interested in starting a meaningful and rewarding career in security, check out our careers page. There are endless opportunities to create your own career path with our Promotion-from-within Philosophy.
Here is a guide on how to become a Security Officer and a downloadable template for writing the ideal Security Guard resume.
Reader Interactions