Paladin strives for the constant evolution and growth of our people. The first value of Paladin's C.A.R.E. culture is to be "Curious" by seeking opportunities to learn and grow. We believe employee development and security career ownership are the best ways to create a strong team. Through our promotion-from-within philosophy, employees can plot their career paths within our organization. Our goal is not just to fill shifts; it's to nurture careers and professionalize the security industry.
In our feature, Paladin Then & Now, we showcase some amazing and inspirational stories of our employees rising through the ranks with security career promotions. This week, we're featuring Portfolio Resource Coordinator Jad Boussi.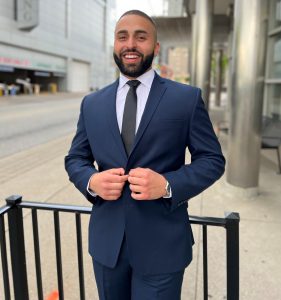 We had a great talk with an extraordinary Paladin Portfolio Resource Coordinator, Jad Boussi. Jad's biggest passion is to help people and give back to the community. He had no idea what security was all about until he joined Paladin Security. Initially, he wanted to become a Police Officer but decided to stay in the security industry because he realized he was in the best position to fulfill his passion for helping others. In this article, he talks about how to take fast-growth opportunities head-on in the security industry and how to mix passion with professionalism. Also, he speaks about security training as life training and becoming the best version of yourself, connecting with your team through experience, and how to get where you want to be on a professional level.
His First Impression About Security & Paladin
"I remember I printed my security resume, walked down to Paladin's office in Windsor, walked into the office asking for HR and if I could drop my resume. The way they welcomed me, even though I wasn't even part of the team yet, immediately made me think that this must be a great company. I got a phone call, went through a couple of interviews, and two weeks later, I got hired as a Casual Guard. I was super excited!
Just so you know, when I first joined Paladin, I had no idea what security was all about. The training and support I got from Paladin and everything I needed to succeed were literally offered to me. That's when I realized I could do the job and felt incredibly encouraged to do my best."
Jad's Journey
Jad has been with Paladin since the beginning of 2018. Since then, he has moved up the ranks quite swiftly, proving that the security industry has an incredibly steep career growth rate. Some professions may require you to stay in an entry-level field position for two to five years. One year of field experience in security can often qualify someone to become a Supervisor, and two years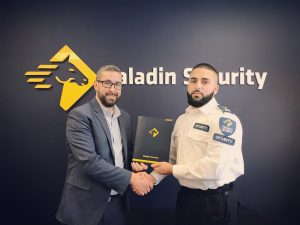 can get the right candidate to entry-level management.
As previously mentioned, Jad started as a Casual Guard, then got his own permanent site as a full-time Security Officer. He then became a Mobile supervisor and was quickly promoted to Zone Supervisor. After a little while, he set his eye on becoming a Portfolio Resource Coordinator for the Windsor team, so he applied for the position, and the rest is history.
"This position is ideal for me because I get to look after my security team and their needs, and I also get to look after the client. I like to make sure that everyone is happy and always staying at the professional level while instilling The Paladin Difference," said Jad.
A Promotion-From-Within Example
"Paladin's promotion-from-within philosophy helped me greatly in my professional career. The support you receive here allows you to do anything you're willing to do. If you have a passion for security, the right tools are always available for you. If you really want to grow within the company, all the solutions are on the table; it's up to you to pick them up or not. So, I sat down, and I took them all! Opportunities like that don't happen every day. That is what got me so attached to this company."
Staying in Security and Fulfilling his Passion
Some people join the security industry wanting to pursue a law enforcement career, and many make that transition. But many of them stay when they realize that the security industry is a whole world of opportunity and growth. Originally, Jad joined the security industry because he wanted to become a Police Officer and make an impact in his community. Here is why he decided to stay in security and how it became an ideal place where he was able to fulfill his passion for helping others:
"Sometimes in life, you don't know what you're good at until you try. When you realize how happy you are doing it and at the end of the day you feel excited to come back the next day, that's a big sign that you should stay where you are! My whole goal in life is to help people, and I realized that at Paladin, I can definitely do that. In my current position, being able to help my team, the clients, and the community is the most rewarding feeling I could ever ask for. I stayed here because I love doing this, I love my job, and I have Paladin's support, so why leave? I know that if I stay here, I can give even more to my community."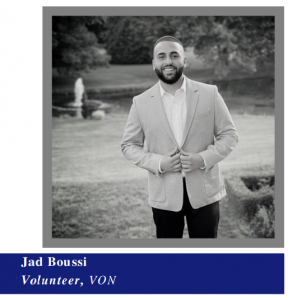 Learn more about how Jad is giving back to his community by delivering groceries to people in need through VON Windsor-Essex and Paladin's support.
Security Training as Life Training
When it comes to training, Paladin takes great pride in being the leading training organization in the security industry. For Jad, training also meant becoming a better person not just professionally but in different areas of his personal life:
"The training that Paladin provided made me a better person from day one; in my work field, at home, my personal life, and even my social life. I always use skills learned from the Paladin training and mix them with other things in my daily interactions. It could be the way I speak to people, the way I relate to people, or the way I connect with people. Integrity and professionalism are the main values I took from Paladin's training, and thanks to that, I am now able to naturally find solutions for any problem and complete my job in a better way."
How to Get to Where You Want to Be Professionally
Here is Jad's piece of advice to those looking to pursue a career in security and move up the ranks just like he did: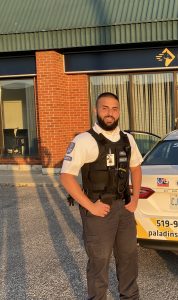 "Be patient. Patience is key to everything you do. There are many challenges you will have to go through to get to where you want to be. If you care about what you are doing, I promise it will show in the end. Show your people that whatever you're doing, you love doing it and that you want to be here! Just give you 100% to work and always look for the bigger picture."
The Power of Working with a Diverse Team
Paladin has so many staff members with different stories and diverse cultural backgrounds. We believe diversity, equity, and inclusion are vital to creating and maintaining a successful workplace where everyone can thrive personally and professionally. Here is how Jad and his team become stronger through diversity:
"I think the more we are diverse, the more we can relate and connect to people. Your team becomes more robust when that connection exists because they will always feel welcomed and appreciated. That is why we are The Paladin Family. The moment you walk into our office, you will be valued, accepted, and appreciated for who you are.
Culture is the biggest thing for me. Everybody's different here, everybody has their own stories, and you learn new things every day. At Paladin, when I finish my shift at the end of the day, I look forward to being here the next day. I am incredibly proud and grateful to be part of such a fantastic family."
Thank you, Jad, for your passion and professionalism! We can't wait for your next step within The Paladin Family!
Be sure to listen to Jad in The Difference Makers podcast.
If you were inspired by Jad's story and are interested in starting a meaningful career in security, check out our careers page.
Ready to jumpstart your career in security but aren't sure which role is right for you? Take our quiz for a personalized career recommendation.
If you are unsure about how to submit a strong resume for a security position, here is a free downloadable template to write the ideal Security Guard resume.
Reader Interactions