At Paladin Security, we believe the best way to create a strong team is through employee development. Through our promotion-from-within philosophy, an employee can plot their own career path within our organization, lending stability to our workforce. In our feature, Paladin Then & Now, we showcase some of the amazing and inspirational stories of our employees rising through the ranks. This week, we're featuring Shane Wright Executive Vice President at Paladin Security Group.
Like so many of our leaders, Shane started his career with Paladin Security as a front-line Security Officer. Since then, Shane has held many positions within the organization, including Supervisor,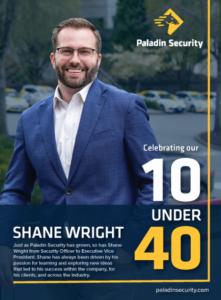 Field Manager, Client Service Manager, Branch Manager, Director of Operations, and Vice President. All of the experience he has gained in these roles has shaped his leadership style and directly influenced how he leads in the security industry. Today, Shane is Paladin's Executive Vice President overseeing business and security operations across the Province of British Columbia, spanning six branches, five joint ventures and overseeing nearly 6000 employees.
"One of my biggest motivations to succeed in the security industry is to put our organization and, therefore myself, in a position to provide other deserving persons with opportunities to grow from within. It is gratifying to find someone that enjoys what they do, equip them with additional training and tools to excel in their position and prepare themselves for further advancement. While all industries have a growth trajectory, the security industry has an incredibly steep rate of growth that can quickly reward those who are open to learn and willing to work hard." – Shane Wright
Greatest Achievements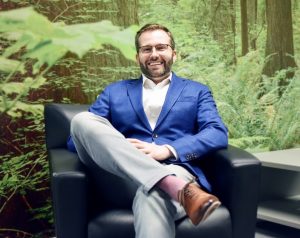 Security Business Growth - At different points in his career, Shane has had different ways of defining success. As a Branch Manager in Victoria, he was able to grow the branch by over 300% between 2014-2018 and created a security operations management methodology that was then replicated in other BC Branches when he was promoted to Vice President of BC Branches in 2018.
Aviation Security Vertical - One of Shane's greatest achievements is the recent success in the aviation security vertical in British Columbia. Winning contracts for Kamloops Airport (YKA) and Prince George International Airport (YXS) in 2018. Paladin most recently added Victoria International Airport in 2021. His team was able to digitalize and automate large portions of the security programs and developed industry-leading training courses in Aviation Security (AVSEC), as well as highly customized customer service and engagement training for the aviation security vertical.
Joint-Ventures with First Nations Communities – Shane has proudly established several successful relationships with Indigenous organizations and communities, as well as several different fully-developed Joint-Venture Partnerships in British Columbia on behalf of Paladin Security, including the following:
SFN Safety & Security LLP. – "Skwó:wech Security" – Shxw'ōwhámél First Nation, Hope, BC
Tsal'alh First Nation - "Ats'xem Security" – Seton Portage, BC
Nak'azdli Whut'en First Nation – Fort St. James, BC
Peters First Nation – Hope, BC
Kitsumkalum Band of the Tsimshian First Nation – Terrace, BC
Paladin's business with Indigenous Communities employs over 150 people, over 75% of whom are Indigenous. We also offer numerous forms of free training, career development, and scholarships. Our Regional Managers and Senior Management team are also active participants in all social and community activities organized by our partners.
Shane has also contributed to Paladin and the security industry's growth by playing an integral role in leading some of our most complex full-service integrated security contracts, which include fusing traditional guard services with integrated electronic security systems.
"In my career at Paladin, I have had the privilege to learn and lead our integrated security programs, which fuse high-profile guard services with integrated security systems. It is the creative aspect and innovation of these combined services that I find most rewarding and therefore serves as one of my biggest motivators," shared Shane.
How Shane Leads in the Security Industry
Wearing the uniform – "Wearing the Paladin uniform at the start of my career and specifically my time working within our healthcare security vertical were critical factors that allowed me to enjoy a successful security management career. Having lived the life of a Security Officer, I not only have a great level of respect for the work they do, but I can better relate to their needs, concerns, and feelings. This has allowed me to tap into and highlight what motivates our staff to do an outstanding job or what we call, The Paladin Difference."
Mentorship and Support – "As one of Paladin's key differentiators, our company culture and the intrinsic level of support that I have received from mentors and peers within the Paladin Family are the most critical factors that have allowed me to lead in the security industry."
Creating Relationships Based on Principles – "One of the crucial factors that have helped me at all stages of my career (Security Officer, Account Manager, Branch Manager, Director and Vice President) is establishing relationships through universal principles based on trust, transparency, and the respect for the inherent worth and dignity of all persons. When you treat people with respect and make decisions based on coming from a place of care and empathy, trust is formed very quickly. Conducting myself by these principles has allowed me to gain the trust of people who work tirelessly to make the world a safer and friendlier place and develop business partnerships with indigenous communities who are trying to make the best long-term decision possible for their people."
Shane's diverse experience in the organization and his undeniable passion for providing our employees with an opportunity to grow have given him the necessary skills to lead our organization to continued growth and expansion. He has recently been recognized by Canadian Security magazine as one of the Top 10 Under 40 leaders in the security industry.
Thank you, Shane; you are a shining example of a true leader and we are immensely proud to have you in The Paladin Family!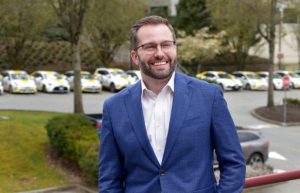 If you were inspired by Shane's story and are interested in starting a meaningful career in security, check out our careers page for all our opportunities within Paladin. We would love to see you grow with The Paladin Family and take your career to the next level.