Over the years, Paladin has helped thousands of employees take their security careers to the next level. The security industry has proven to be a great steppingstone for other public safety-related careers. As one of the most recommended security firms by law enforcement recruiters, The Paladin Family is always proud of team members who start a career in security and down the road decide to follow their path into law enforcement. We like to share their stories with those passionate about pursuing a career in policing that might want to follow in their footsteps. Providing this insightful information and inspiring testimonials helps security professionals take the next step in their careers.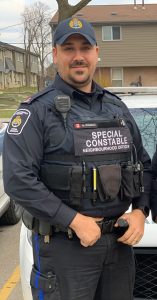 Alex Pinatsis joined Paladin in 2017 as a Site Supervisor in the healthcare sector. Today, he is a Sergeant with Toronto Community Housing. We had the opportunity to chat with Alex, where he shared how the experience and training he received while working at Paladin played a major role in his development as a team leader. He also talks about how his career in security and Paladin's Promotion-from-within philosophy gave him the tools to move through the ranks and prepared him for his law enforcement role.
How did Paladin help you transition into law enforcement?
"While working for Paladin Security, I was a Site Supervisor for two major hospitals in Ontario. My experience working in this high-dynamic type of security field truly prepared me for my current role as a Sergeant Special Constable with Toronto Community Housing. I learned how to speak with all ranges of people which included external stakeholders, front line staff, hospital staff, and different levels of management."
In what way did Paladin's training prepare you for your future career?
"The training that Paladin offers both in-class and on-site is exactly what someone needs in order to prepare themselves for either movement within the company or in pursuit of other career paths. I was able to take the training I received and apply all the knowledge and practice in the field while working with my team and management."
How would you rate Paladin's training versus other providers out there?
"Working in the security field, I have had the opportunity to work with many different security professionals. When I began working for Paladin, I immediately knew that the training and staff conducting the training were far superior to other companies. The National Training & Development Manager and his team were dedicated, focused, and genuinely cared about the staff and preparing them for being in the field. Paladin really puts in the time and effort to make sure security officers perform to the best of their abilities and succeed in their roles."
What made the training team so unique in teaching the programs?
"Working with National Training & Development Manager in the office for training was always exciting. I believe that in a lot of companies, trainers overlook the need to continuously educate themselves as new and innovative tools and methods are introduced. I know that the training team made sure to keep up to date with training and ensured that anyone in his class was ready to perform their required duties."
Did you get any kind of mentorship that helped you develop to achieve your career goals?
"When it came to spending time in the classroom with our training team, they went above and beyond to ensure that we as front-line members were well equipped when being sent to our work locations. The training team took time to ensure that our work not just "met standard" but made sure we understood what was being presented to us and, where needed, spent extra time with members who needed a little more attention."
From your experience with Paladin, are there any tools, skills, knowledge, or practices that you still use today and help you in your current career?
"Looking back at the training and fieldwork while employed at Paladin Security, I know that I would not be in my current role without that training and guidance. I truly believe that Paladin Security played a major role in how I was able to develop as an individual and more importantly, learned how to be an effective team leader. Paladin provided the necessary resources to ensure I was going to be successful in my role."
Paladin strives for the constant evolution and growth of its employees. If you seek to expand your skills, knowledge, and abilities to secure employment in law enforcement like Alex, The Paladin Family will help you get there. As Canada's leading provider of security services, we are committed to offering the best employment and career development opportunities in the security industry. A shining example is our newly launched Paladin to Policing program, exclusively offered to qualified Paladin staff.
Check out our careers page for all our opportunities within Paladin. We would love to see you take your security journey to the next level.
Be sure to listen to Episode 10 of The Difference Makers | A Paladin Security Podcast to learn more about how security experience could lead to a career in law enforcement.