At Paladin, we are helping security professionals understand the tools and techniques needed to manage critical situations that may arise in a security career. Security Officers can take advantage of specialized training courses for their specific site as well as sharpen their skills, knowledge, and abilities to grow, meet a career goal in protection services, and become the everyday heroes that they are.
MOAB (Management of Aggressive Behaviour) is an in-depth training program that teaches individuals how to recognize, reduce and manage violent and aggressive behaviour. Paladin has been teaching MOAB training for years. This program has helped our staff stay safe professionally and even personally. Recently, Paladin re-aligned with MOAB Training International in a partnership to develop a customized version of the MOAB training program to suit Paladin's training needs. This has led to enhancing the quality of training provided to our security professionals. Using the latest teaching methods, along with advanced learning principles and practical activities, allows Paladin instructors to train students on how to effectively deal with aggressive individuals.
Paladin + MOAB Training Objectives
The security student manual aims to:
Teach and improve principles, techniques, and skills used to recognize, reduce, and manage anxious, aggressive, and violent behaviour
Provide effective and compassionate methods of de-escalation for irate situations
Gain personal empowerment through increased confidence and skills used during threatening scenarios
Minimize the potential for injury to staff, bystanders, and anyone involved
Reduce fear in stressful circumstances by increasing the ability to successfully react
Reduce liability risk for inadequate, unnecessary, or improper control of aggressive and violent behaviour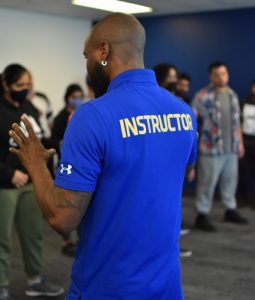 The new Paladin/MOAB customized program is part of our suite of specialized trainings that exceed industry standards for security personnel across Canada. It provides the best-in-class preparation for Security Officers who work as front-line staff members. Paladin Security has over 20 MOAB®-certified instructors across the country. Our company-paid training ensures that our employees are ready to perform with the tools and confidence they need to be successful.
Strategies for Preventing and Diffusing Aggressive Behavior
Prepare yourself mentally
Mental conditioning is essential to enhance the learning and retention of new skills. Its purpose is to eliminate ineffective habits, control stress, and improve decision-making, physical performance, and confidence. It can also reduce the chances of Post-Traumatic Stress Disorder (PTSD).
Communicate non-verbally
There are five methods of communication: verbal, reading, writing, listening, and non-verbal. Humans use non-verbal communication around 90% of the time. It is one of the most
reliable types of communication. Rarely are we aware that personal space, eye communication, posture, gestures, and facial expressions can tell a story. When verbal and non-verbal communications conflict, rely on the non-verbal signals.
Listen effectively and communicate verbally
The way a person communicates says a lot. Active listening can tell you if a person needs help or if someone is avoiding a conversation, but it can also give information about a person's emotional state and physical/mental condition. Security professionals need to be skillful when it comes to relaying a message verbally as well; verbal communication is one of the most powerful tools in security when it comes to de-escalation techniques.
Manage stages of conflict
Conflict can be a result of unmet expectations and 90% of the time it is related to past experiences. There are generally three stages of conflict: anxiety, emotional confrontation, and physical aggression. MOAB® training teaches security professionals to recognize and manage the three stages of conflict.
Approach individuals properly
In dealing with aggression, it is important to respond appropriately. Knowing how to approach an aggressive individual is key to managing irate situations. There are various techniques and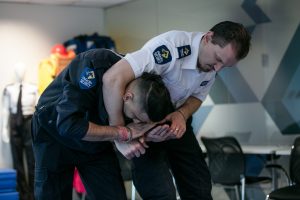 strategies on how to gain or regain control of a situation. Making an appropriate response can help the other person to manage their emotions, even unconsciously. For example, an assertive response can help move the other person to become more assertive, rather than aggressive.
The Paladin/MOAB® customized training program is a huge win for the company! As the leading training organization within the security industry, we take great pride in teaching others who may not have had previous experience in security to know how to help others, care for themselves, and create a safe environment by instilling The Paladin Difference. 
If you are interested in starting a meaningful career in security and making a difference in your community, check out our careers page. There are endless opportunities to create your own career path with our Promotion-from-within Philosophy. Be part of an award-winning culture that leads in the security industry and see how far your career goes with The Paladin Family.
Be sure to listen to The Difference Makers podcast and read our blog to learn more about why Paladin's training is so unique.
Reader Interactions