Paladin has earned a national reputation as the leading security training organization. We have achieved such a prestigious title thanks to our outstanding training experts. Meet some of our featured Paladin Security Trainers: Diana Drazek, Xavier Youngsue, Alessandro Caperna, Sean Crawford, Anthony Suppa, Noah Tufts, Julius Sosa and Norm Bettencourt.
Introducing Krisztina Gyurasz, the inspiring Regional Trainer for Southern Ontario! Krisztina's journey has been nothing short of remarkable, filled with determination and passion for the security industry.
Security Trainer in the Making
A proud Western Agriculture Alumni from the University of Guelph, Krisztina graduated in Environmental Management and earned her Agricultural Management associate degree. After facing the challenges of
finding work in her field, she decided to explore the world of security, which turned out to be life-changing.
It all started around 2009 when Krisztina witnessed a Loss Prevention Officer struggling to make an arrest. Without hesitation, she stepped in to assist, and her bravery and quick thinking earned her recognition from the Windsor Police Service. This experience sparked her interest in the security industry, leading her to work as a Loss Prevention Officer before discovering the exciting opportunities at Paladin Security's Windsor branch.
Moving up the Ranks of Security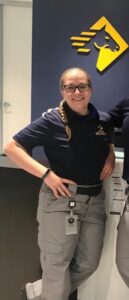 In the fall of 2010, Krisztina joined Paladin Security as an on-call security guard, providing extra coverage at various sites. Her dedication and sense of responsibility soon earned her a full-time role. By April 2012, she was promoted to the prestigious Mobile Patrol Response Unit, where she received specialized training to sharpen her security skills, a testament to her commitment, hard work, and Paladin's promotion-from-within philosophy.
Throughout her journey at Paladin Security, Krisztina's passion for training and her outstanding interpersonal skills didn't go unnoticed. She was recommended for a training instructor position and took on the role of Portfolio Resource Coordinator, further showcasing her versatility and expertise.
Today, Krisztina reflects on her remarkable progress within Paladin, grateful for the challenges she has overcome and eager for the future ahead. She exudes enthusiasm in her current role and each new challenge that comes her way.
Making a Difference
Recently, Krisztina achieved her first aid & CPR instructor certification with St. John Ambulance, expanding her portfolio of skills and training responsibilities. She is thrilled to contribute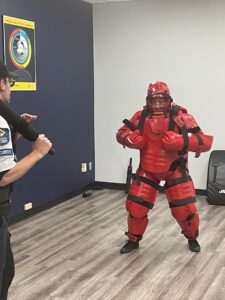 even more to the security community and make a positive impact.
Beyond her professional achievements, Krisztina understands the importance of work-life balance. As the regional trainer for Southwestern Ontario, she also loves spending quality time with her beloved 5-year-old Jack Russell Terrier, "Stella."
Krisztina's journey exemplifies how dedication, passion, and a willingness to embrace new opportunities can lead to a fulfilling and rewarding career. We celebrate her achievements and can't wait to see the positive influence she will continue to have on the security industry and those around her.
If you want to start a meaningful career in security and make a difference like Krisztina, check out our careers page.
Listen to The Difference Makers podcast, where our security professionals talk about what makes Paladin's industry-leading training so unique and why continuous education is vital.
Ready to kickstart your career in security? Here is a guide on How to become a Security Officer and a free downloadable template to write the ideal Security Guard resume.