At Paladin, we take great pride in teaching others who may not have had previous experience in security to know how to help others, care for themselves, and create a safe environment. We're helping people who want to start a career in security understand the tools and techniques needed to manage critical situations. Moreover, we further improve Security Officer's skills focused on their specific roles, which lead to personal growth. It is part of our C.A.R.E. culture of being Curious, Accountable, Respectful, and Exceptional. Our security professionals can take full advantage of the training and its application to sharpen their skills, knowledge, and abilities to meet a career goal. 
Paladin has earned a national reputation as the leading training organization within the security industry, and we have achieved such a prestigious title thanks to our outstanding training experts. Meet some of our featured Paladin trainers: Sean Crawford, Anthony Suppa, Noah Tufts, Norm Bettencourt, and Xavier Youngsue.
Meet Paladin's Trainer, Alessandro Caperna: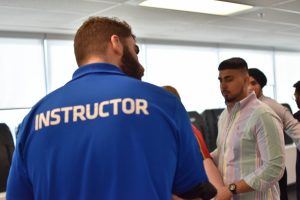 Alessandro is an outstanding security professional with public safety and customer service-centred experience. He graduated from the Police Foundations program with High Honours from Sheridan College. He started as a Security Officer with Paladin and gradually moved up the ranks to Supervisor and Operations Coordinator. The multiple positions and promotions enabled him to gain vigorous experience with mental health illnesses, arrests, use of force, and more.
With a great passion for training, he became an exceptional Instructor for Paladin, where he mainly teaches Use of Force and Management of Aggressive Behaviour (MOAB). However, he is also a Tactical Communications Instructor and holds certifications in Armament Systems and Procedures (ASP), International Police Mountain Bike Association (IMPBA), and Mental Health First Aid, among others. Alessandro is constantly on the lookout for opportunities to learn new skills while training and mentoring Paladin's new and existing staff. He recently became an ASP Tactical Weapons and First-Aid Instructor.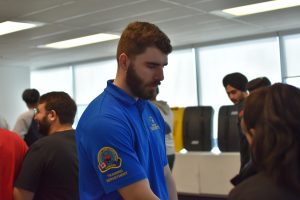 He was awarded for the best-presented Crime Prevention Through Environmental Design (CPTED) model introducing new and relevant ideas to keep a specific area of Brampton safe from hazards and criminal activity. The model integrated useful key points around social media, environmental design strategies, business contributors, community volunteers, awareness campaigns, mentor programs, and more.
Alessandro has spent hundreds of hours volunteering through socially benefiting opportunities such as YMCA Volunteer Fitness Coordinator, Ontario Provincial Police Internship mentor, Big Brothers Big Sisters mentor for at-risk youth, and even Toronto Star Gift Box for the delivery of free presents to low-income families. He's been part of various Police related internships focused on student growth and shaping potential officers while improving social and interpersonal skills.
Not surprisingly, Alessandro maintains excellent physical fitness and is quite familiar with martial arts, including Muay Thai, Brazilian Jiu-Jitsu, Krav Maga, Mixed Martial Arts, and Edged Weapon Defense. He is always looking to further his training in defensive tactics and upgrade his knowledge and skills to become a better trainer for his Paladin students.
We are amazed and thankful for your talent, masterfulness and dedication, Alessandro!
Sean is another shining example of our outstanding trainers at Paladin. They really take the time and dedication when it comes to training our staff. The Paladin Difference is about more than just meeting curriculum requirements or teaching students about everyday security procedures; it's about bringing the classroom to life. We want our students to be able to take the information they've learned and apply it on the next patrol. Through this hands-on, strategic learning, we are empowering our security professionals to make a positive difference in their communities.
Paladin's company-paid and on-the-job training ensure that newcomers to security are ready to perform with the tools and confidence they need to succeed. We even help prepare staff for provincial licensing exams and tests.
If you are interested in starting a meaningful career in security and making a difference in your community, check out our careers page for all our opportunities within Paladin. We would love to see you grow and take your security career to the next level with The Paladin Family. 
If you are unsure about how to submit a strong resume for a security position, here is a free downloadable template to write the ideal Security Guard resume.
Be sure to listen to The Difference Makers podcast, where our security professionals talk about what makes Paladin's training so unique and why continuous education is vital.
Reader Interactions