The third week in September is National Security Officer Appreciation Week. It is a time to celebrate our security professionals' hard work and dedication.
We know that our Paladin Security Officers go above and beyond to make a difference in our communities and people's lives through a people-first approach, accountability, and powerful engagement with the public. Every Paladin uniform represents action in the name of safety, so we've got some great ways to show them how much we appreciate and recognize their work!
Our Superstars    
We believe in instilling a sense of pride and professionalism in our Security Officers by rewarding their outstanding actions and heroic work. Our internal recognition program allows peers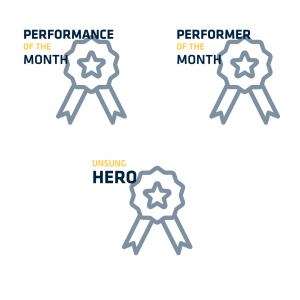 and leadership to nominate Officers for Performance of the Month, Performer of the Month, and Unsung Hero awards. Additionally, we constantly nominate our security professionals for external award programs like Canadian Security Lifesaver Awards (CSLA), International Association for Healthcare Security and Safety (IHASS), Outstanding Security Performance Awards (OSPA), and more.
Here are some of our recent Superstars:
PERFORMER OF THE MONTH
The pinnacle of Paladin excellence, the Performer of the Month, is mainly based on the aspect of Customer Service. Any extraordinary efforts made by the Officer are considered, along with positive comments made by the client or the site staff. This person consistently maintains and generates a positive environment for those working with and around them.
Performer of the Month: Kyle Christy - Kamloops
Kyle returned to the office after completing his mobile patrols when he noticed a fire in a nearby building's alcove. The flames were burning against the side of the building and almost hitting the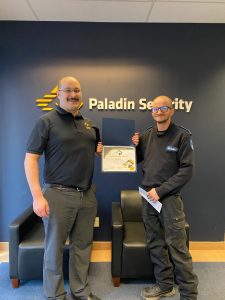 ceiling. Kyle approached the person sitting by the fire and demanded they put it out immediately. The person refused, so Kyle went and grabbed a fire extinguisher and returned to put out the fire before it spread. Once that was taken care of, Kyle called Fire & Rescue so they could ensure that the fire was fully extinguished. He then contacted the RCMP to look for the person that had fled.
Great job looking out for our neighbours and keeping the community safe, Kyle!
PERFORMANCE OF THE MONTH
The Performance of the Month award is usually a result of an outstanding action. This may be a situation where an Officer went above and beyond the call of duty in an exciting or unusual circumstance. The quick action, assessment and response from this individual will determine the worthiness of this award.
Performance of the Month: Wilbert Defries - Winnipeg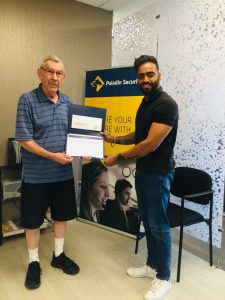 With his exceptional customer service skills, Wilbert went above and beyond to calm down a customer who was having anxiety because of her upcoming driver's test. He soothed her down by talking to her and helped her to be confident during her test. The lady passed her test and was very thankful for his help and positive attitude.
Way to go, Wilbert!
UNSUNG HERO
Criteria for the Unsung Hero award include a steady, hardworking, reliable, stable, and loyal individual. This award is ideal for recognizing Officers who are vital to their sites. These individuals give their utmost effort day-in-and-day-out to represent the company with pride and integrity.
Unsung Hero: Ajowah Lindsay - Okanagan College
From Client Service manager Jordan Zanotto:
"Ajowah has been a critical component in the smooth operations of Vernon, Kelowna and Penticton campuses. In the three weeks I have been with Paladin, Ajowah has shown that she is a steady, reliable, and loyal individual who fulfills her duties as a Site Supervisor. Coming from the BC Sheriff Service and stepping into the role of Client Service Manager, Ajowah has been a key player in my understanding of how Paladin works, what is essential and the needs of our various clients. "
You truly showcase our CARE values with exceptional accountability, Ajowah! 
Canadian Security Lifesaver Award (CSLA)
The Canadian Security Lifesaver Award (CSLA) recognizes the exceptional front-line security professionals who, through their actions, have prevented a potentially life-threatening injury or loss of life.
We always like to celebrate all our lifesavers! Here is one of our latest recipients:
Gagandeep Panesar - Calgary
While on shift, Gagandeep came across a male who couldn't breathe. Gagandeep did everything he learned in CPR training, handled the situation calmly, and followed all protocols. He had someone call 9-1-1 and stayed with the male until the situation was handled.
Way to put training into practice. We truly commend your extraordinary life-saving actions to keep our communities safe, Gagandeep!
At Paladin, we like to do something called 24 Hours of Thanks, where our corporate teams visit all our Officers over a 24-hour period to meet with our front-line staff, present them with a few small gifts of appreciation and listen to their stories. This year we're excited to see and hear how each of our Officers carries out our CARE values every day. Stay tuned to see how we celebrate our staff!
Learn More About the Security Industry
Be sure to listen to The Difference Makers podcast and read our blog to learn more about us and the exciting world of security.
If you were inspired by our Superstars and are interested in starting a meaningful and rewarding career in security, check out our careers page. We would love to see you grow and take your security career to the next level with The Paladin Family. 
Unsure about how to submit a strong resume for a security position? Here is a free downloadable template to write the ideal Security Guard resume.
If you're still not sure, check out the amazing stories below of some of our security professionals in action and tips on how to follow in their steps!
View this post on Instagram
View this post on Instagram
View this post on Instagram
Reader Interactions