"Every Child Matters, even if they are an adult, from now on." – Phyllis Webstand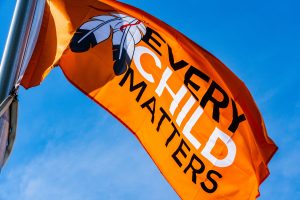 Friday, September 30, is the second anniversary of Canada's National Truth and Reconciliation Day, a day to educate people and promote awareness of Canada's Indigenous communities impacted by the residential school system. It's a time to raise awareness, learn the truth about the history of our country, and take actionable steps towards meaningful reconciliation.
If you're interested in learning more about our National Day for Truth and Reconciliation, be sure to read Phyllis' Story, who has been a strong advocate in helping to raise awareness and was the inspiration for why we wear orange on this day --> Read her story at orangeshirtday.org. 
Indigenous Engagement & Participation at Paladin
At Paladin, our vision is to make the world a safer and friendlier place. We achieve this vision by conducting ourselves with the values that speak to our company's culture: CARE (Be Curious, Be Accountable, Be Respectful and Be Exceptional). On the National Day of Truth and Reconciliation and every other day, Paladinians across Canada take special care to be:
Curious about the true history of our Indigenous Peoples and the residential school system in Canada by taking time to educate ourselves and others.

Accountable by taking time out of one's life to reflect upon our history and take measurable steps to improve the lives of our Indigenous community members in Canada.

Respect the strength, resilience, and beautiful diversity of our Indigenous communities in Canada through education and awareness-raising activities.

Exceptional by taking action to provide Indigenous Communities with genuine social and economic reconciliation.
As the lead for our Indigenous Partnerships, Shane Wright, Executive Vice President, acknowledged:
The second official National Day of Truth and Reconciliation is yet another opportunity to learn and recognize this sad part of our Canadian history; to help our Indigenous neighbours heal and reflect upon what each of us can do to support the ongoing journey of social and economic reconciliation every other day of the year. At Paladin, we support Indigenous Communities with educational opportunities in the field of security, generate meaningful employment, and share proceeds of our common business opportunities in an effort to create positive social impacts. We want to thank our Indigenous partners for being some of our great allies and helping us become a better company that truly cares. We cherish your unwavering support and the trust you have shared with Paladin."
Indigenous Partnerships
Shxw'ōwhámél First Nation

Tsal'alh First Nation

Nak'azdli Whut'en First Nation

Peters First Nation

Kitsumkalum Band of the Tsimshian First Nation
In addition to recognizing our partners' most active delivery of ongoing security services, we would also like to express our gratitude and recognition for our partnerships with Native Friendship Centres, Aboriginal Skills and Employment Training Centres, Aboriginal-owned subcontractors, and other Indigenous Partnerships in different stages of development.
On this National Truth and Reconciliation Day, we encourage everyone to listen with open ears to the stories of survivors and their families and to remember those who didn't make it.
Resources
- Phyllis' Story (orangeshirtday.org)
- Residential Schools in Canada | The Canadian Encyclopedia
- Embracing the Critical Consciousness Theory in an Indigenous Context
- What is Indigenous Cultural Safety – And Why Should I Care About It?
Support for Residential School Survivors
National Residential School Crisis Line: 1-866-925-4419
First Nation and Inuit Hope and Wellness 24/7 Help Line: 1-855-242-3310
Alberta: 1-888-495-6588
British Columbia: 1-877-477-0775
Saskatchewan: 1-866-250-1529
Ontario: 1-888-301-6426
Atlantic Provinces: 1-866-414-8111