A career as a Security Officer can be very rewarding and lead to numerous opportunities. Paladin believes that employees can plot their own career path within our organization through our promotion-from-within philosophy and coaching programs. A career in security can also provide you with the necessary experience to help you qualify for a career in law enforcement and improve your application.
Former Paladin employees share their success stories of how Paladin's promotion-from-within, culture, and training helped them work their way through the ranks in their careers as Security Officers, giving them the experience, skills, and knowledge to land their dream job in Policing, CBSA, Corrections, and other law enforcement roles.
CARSTEN PENNER (VICTORIA) TESTIMONIAL
"My name is Carsten Penner, and on March 18, 2019, I was hired as a Police Officer, a long-standing dream of mine. Accomplishing this goal represented many years of hard work, dedication, patience, and perseverance.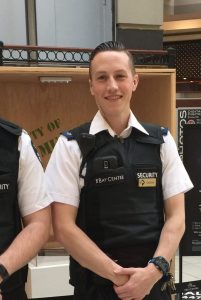 Before this, I worked for Paladin Security on Vancouver Island for five years. Without the experience I gained as a security professional for Paladin Security, I would not have acquired the confidence and knowledge that allowed me to become an attractive candidate for law enforcement. The skills I learned have truly helped me throughout my policing career.
At my primary site, I was working in a team atmosphere, where each day, I was challenged with something new. I encountered many different calls that focused on criminal behaviour, mental health, drug-related offences, maintenance issues, and straightforward customer service calls for tenants and patrons alike.
Due to my hard work and Paladin's promotion-from-within philosophy, I eventually became the supervisor for the site, where I was able to demonstrate and hone my leadership skills. The high profile and dynamic site I worked on requires security to possess strong customer service skills and an ability to defuse a high volume of situations and various calls.
During my interviews for the Police, I spoke of how my site was its' own small community, where on every shift, I would treat each of the Centre's business owners as if they were a homeowner in the community. I wanted to be out in the public eye to allow the tenants to learn that security was there to support them and allow myself to understand each tenant's needs personally. This approach focused on the community policing methodology. During my time with Paladin Security, I learned that Paladin took heart.
Security and Policing are professions where you need to develop positive personal relationships with the public to meet their needs to the best of your abilities. As I move on from Paladin now, I leave with a positive outlook for the future. I say goodbye to a company who was always there for me and colleagues who I still consider close friends."
Carsten's story is evidence of the industry-leading training that Paladin provides. At Paladin, our Officers receive anywhere from 40-200 hours of preparatory training before working in a billable role. In addition, we have over 100+ online courses for security training and supplemental classroom and hands-on training. Many of our branches have relationships with local law enforcement, including formal and informal partnerships. This often means we can host dedicated information sessions for our people, offering a more engaging and personal connection with police recruiters.
SARA PIOTTO (TORONTO) TESTIMONIAL
"My name is Sara Piotto, and I was hired as a Police Officer for the Royal Canadian Mounted Police. This has been a lifelong dream, which started with a career in Healthcare Security.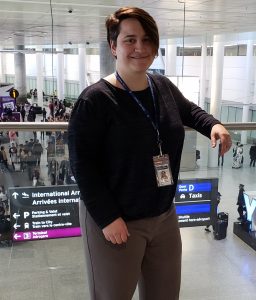 In 2006 my journey started. I was fresh out of University, and I applied directly to a local police service. Well into 2007, the police service deemed that my application was not competitive and lacked life experience. I immediately turned to the security industry to recharge and drive my career goals.
I started working as a front-line Officer, eager to learn, train, and grow within Paladin Security. The family and team environment at Paladin enriched my professional and personal development.
By 2010, with the encouragement from Paladin leaders, I was able to pursue two career paths; I became a Supervisor at a large health network in Greater Toronto and an active member within the ASIS & IAHSS communities. These paths catapulted my career in security and policing.
With unwavering support from the Paladin Family, I refined my investigations, training, coaching, time management, flexibility, teamwork, and networking. The skills I have acquired and refined allowed me to be competitive during the RCMP selection process.
Today, I continue to be an advocate for Paladin Security. I encourage all Officers who aspire to a career in Law Enforcement & Corrections and the Security Industry to surround themselves with Paladin Leaders who will support your personal and professional development."
Which Security Roles within Paladin are Best for Policing Experience?
Any placement can offer a unique experience that can boost your Law Enforcement application. Paladin offers countless high-profile, dynamic and challenging work locations where you can hone your skills, gain experience, enhance your resume and prepare yourself for a career in policing.
Check out our articles for The Differences Between a Security Officer and a Police Officer and Everything You Need to Know About Becoming an Auxiliary Police Officer for more information about the security to law enforcement transition.
CLYTON FERNANDES (VANCOUVER) TESTIMONIAL
"Working in law enforcement has been a dream of mine since I was in high school, and in May 2019, that dream finally became a reality.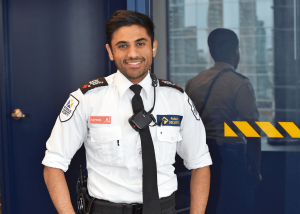 During my six years working with Paladin, I've been exposed to many experiences that prepared me for my application and future career with the RCMP. I learned applicable skills like proper report writing, tracking crime trends, conducting investigations, and reviewing video footage.
One of the greatest experiences Paladin gave me was the opportunity to build positive relationships with law enforcement. At most sites, you'll get to know members of law enforcement who are consistently attending to calls at your location. By getting to know these Officers, I built relationships and had mentors who could help me with my application and even offered to take me for a ride-along. These experiences were invaluable and definitely put my application above the rest.
I want to thank Paladin Security for giving me a platform to gain the experience I needed to succeed. I would recommend Paladin to anyone looking to start a career in law enforcement. Their training, support, and opportunities do an incredible job of preparing you for your future!"
5 RESUME TIPS FOR YOUR POLICING APPLICATION
We spoke with recruitment specialists at local law enforcement agencies and Paladin employees who were former Police Officers to find the best resume tips. While there are many ways to make your resume stand out, we've compiled the best ways to put your application above the rest.
Volunteer experience. Recruiters look for individuals committed to making the world a better place. Showcase your dedication through a meaningful volunteer experience with an organization you are passionate about.
Working in private security. With the extensive training and real-life experience, working in private security prepares you for a career in law enforcement. There are many ways private security can be beneficial, from learning basic skills to situational experience to working side-by-side with law enforcement.
Awards and certifications. Showcasing your recognition for going the extra mile can push your application to the top. Whether it is a scholarship, community, or employee award, recruiters will seriously consider applicants with a proven track record. Paladin offers three monthly performance awards at every branch for employees that go above and beyond.
Community involvement. There's no better way to demonstrate that you are an outstanding citizen and member of the community than by getting involved. Participating in team sports and team-building activities is a great way to showcase your commitment to your community.
Post-secondary education in a related field(such as criminology). Equip yourself with the proper education needed to excel in this field. Having a well-rounded application means demonstrating critical thinking as much as your physical execution.
If you're looking for meaningful work and interested in starting in the security industry, Paladin is an excellent stepping-stone into policing. Join the 20% of Paladin employees who have successfully pursued careers in law enforcement. Gain valuable experience and make a difference in your community.
Apply now to take the next step in your career. Discover your possibilities with Paladin.
Be sure to listen to Episode 2 of The Difference Makers | A Paladin Security Podcast to learn more about how security experience could lead to a career in law enforcement.
Reader Interactions