For Security Officer Anmol Singh, it was the comments of support that got him through the days following a situation no one should have to go through.
"Once it happens and you hear it again, it hurts the same. But I was reading the comments and all of them were positive towards me, so it made me feel good."
Anmol is referring to a video that shows a man unleashing a racist tirade on him which was caught on video by a local reporter. But the man's first target wasn't Anmol, it was the reporter. Anmol felt the man was being too aggressive towards her, so he stepped in. That's when the racist comments started.
"My patience level is quite high, but it made me feel bad. I even talked to the police after because I didn't feel good at all," Anmol added.
The video, something Anmol didn't know existed until the next day, shows him staying calm and collected instead of allowing the situation to escalate.
"With me, the first thing I think is how can I de-escalate the situation and learn from the training Paladin provided, like Management of Aggressive Behaviour. The best way is always to de-escalate, and that's the top priority," Anmol explained
Kelowna Branch Manager Jason Davis agrees.
"I was at the scene with him for several hours and the level of composure Anmol showed was absolutely incredible despite the relentless verbal assaults. He is a man with great integrity and values," Davis said. "What you saw in the video was him stepping in the line of fire to protect the people behind him suffering the same torment."
The video went viral quickly, with Anmol receiving hundreds of tweets, letters, and messages of support from all over the world, including as far away as Australia and New Zealand. He says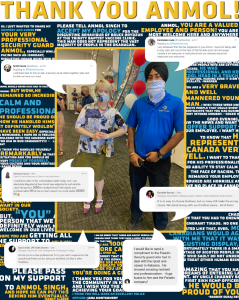 people have also offered him gifts and dropped off goodies at the Paladin office, and that he even got a phone call from the Premier of B.C, John Horgan.
"I was sleeping, but he called me and left a voicemail which I saved. He said he was so proud of how I handled the situation and that he has my back along with the vast majority of British Columbians," Anmol explained.
Anmol came to Canada from India in March of 2017 for a better quality of life. From there, he earned an Associate Degree of Arts from Okanagan College and is working towards becoming a permanent resident. Since the incident, he has been promoted, which he hopes will help him reach his goal of becoming a police officer.
He says the whole situation has been life-changing and that he can't thank everyone enough for their support.
"There's one person who can spoil your day, whole month, or whole year, but there are a lot more people to support you, and I think if this happens to anyone else, they should not feel alone. There are people with them." Anmol said.
He also would like to see the world be more accepting of people's differences.
"I think we should be a more inclusive society and should accept all people from a variety of communities who are coming to Canada now and in the future," he added.
At Paladin Security, our mission is to make the world a safer & friendlier place and we are so proud of the diversity within our company and the difference our people, like Anmol, make every day in communities across Canada.
Thank you, Anmol for making the entire Paladin Family proud.
Reader Interactions