At Paladin Security, we believe the best way to create a strong team is through employee development and our promotion-from-within philosophy. Through our development programs, an employee can plot their own career path within our organization, lending stability to our workforce. In our bi-weekly feature, Paladin Then & Now, we're showcasing some of the amazing and inspirational stories of our employees rising through the ranks. This week, we're featuring Employee Care Coordinator, Courtney Richards. 
Courtney Richards – Employee Care Coordinator
Courtney, you are based in Edmonton and started as an Officer and moved your way up within the company. When exactly did you start?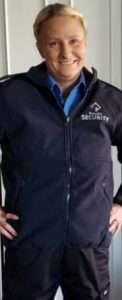 I was hired in August 2019 for the Healthcare Portfolio. I worked as a full-time guard at the Royal Alexandra Hospital for a year. I was then hired as the Office Administrator as of September 2020. I moved into the role of People & Culture Assistant in December 2020. At the end of January 2021, I was hired as the Employee Care Coordinator.  
Wow, you gained a lot of experience in such a short period of time. When you first started, were you aware of Paladin's promotion from within philosophy?
When I first started with the company, I was not familiar with the promotion from within. But once I was with the company for a few months, one of my colleagues was speaking with me about the different opportunities opening up within the office. She encouraged me to apply when positions were posted as she felt I would be a great addition to our office atmosphere, and with my knowledge in the field, felt I could be beneficial to Paladin and our employees. It took off from there! 
What was the transition from field to office like?
My previous employment background was in banking for over 10 years so the transition from field to office was pretty seamless. My experience as a guard helped me to better understand the security industry and our employees' needs.  
You attended Algonquin College for Early Childhood Education. Has that helped you in any way in your c
areer at Paladin?
I feel it has helped to better understand our employees and how to effectively communicate, especially through the courses I took like Psychology, Communications, and Family and Community Programs. It has given me tools I use every day in all types of situations.    
What is your favourite thing about working for Paladin? 
My favorite part about working for Paladin is being able to help people. I know it sounds cheesy but knowing that I have helped someone solve a problem or get them on the right path to accomplish their goals makes my day better.  
What piece of advice would you give to someone looking to move up within the company?
Make your intentions known. Speak with your manager about your career goals and set targets along the way. Look for opportunities to grow as an individual and continue to learn as much as you can. Most importantly, believe in yourself.
Reader Interactions