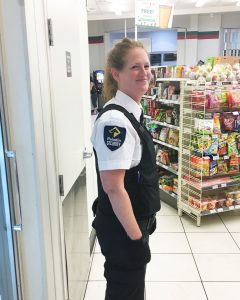 Lindsay Shaver is an Assistant Site Supervisor and began her career with Paladin in 2017.
How long have you been with Paladin?
I had spent most of my life working in the restaurant industry and had just begun my post-baccalaureate in Criminology at SFU where I attended a criminology career fair.
I was then subsequently introduced to opportunities with Paladin. It seemed like a good time to make a career change, as I was preparing to eventually apply for the Vancouver Police Department. While in training, I was approached by Ian Henderson (Client Service Manager) who articulated the benefits of joining the loss prevention program with opportunities for increased training and experience.
I worked as a uniformed loss prevention officer in the downtown eastside (DTES) for six months when I was offered the opportunity to join the Community Safety team contracted by the Strathcona BIA, which is where I have been for the past 19 months. In this role we are fortunate enough to work in partners, in partnership with a non-profit (BIA), the Strathcona Community Policing Centre, and alongside community members of the DTES experiencing homelessness, mental health issues, and addiction.
Which unique traits do you believe women bring to security?
I believe that women and their presence can achieve an increased approachability in the roles that they perform. In a male dominated industry, I believe it is important to have a significant percentage of women since reflecting the community is important in building relationships. It allows for different viewpoints and an increased variety of ways to respond to different and potentially difficult situations.
How would you describe Paladin Security?         
Paladin is a growing company that has a wide variety of opportunities for those that have different interests and goals whether in security or beyond. I never would have imagined the experiences I have had and the privilege to be a part of and learn from them. It has created an awareness in me regarding social issues in Vancouver's DTES and the daily struggles that affect both the community and businesses. It is really a unique experience and allows for strong and supportive working relationships and camaraderie due to the intensity and understanding of shared stories and events that this work brings.
What's the best piece of advice that you've received and would pass on to women following in your footsteps?
Having confidence in yourself through training and experience gives you the presence and ability to handle situations with a calm mind and strength. You are capable of more than you ever thought you were.