Life is getting more expensive for Canadians, especially for those hoping to retire in the coming years. The cost of living is rising, and people are challenged to get ahead financially. This means many Canadians may choose to work a second job pre-retirement or continue working post-retirement to supplement their savings. See this article in The National Post.
With a rising number of Canadians seeking extra income, the private security industry is proving to be an excellent option, offering many rewarding and fulfilling job opportunities.
Paladin Security has grown into Canada's largest private full-service security company and one of the fastest-growing companies in the country. With ten years as one of Canada's Best Managed Companies, an award-winning culture, and named Best Employer by Forbes Magazine, The Paladin Family provides "A Secure Job in Security" with positions like Security Officer, Concierge, Security Ambassador, and more. These career opportunities can be a great option for mature adults in Canada looking for additional income and a sense of purpose, pre- or post-retirement.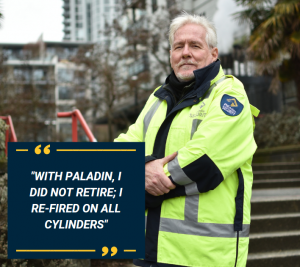 "With Paladin, I did not retire; I 'RE-FIRED' on all cylinders while helping people from within grow and achieve their own levels of success," said Security Officer Pierre Spenard. Making a difference in our communities and people's lives through a people-first approach, accountability, and powerful engagement with the public is what Paladin is all about. Every Paladin uniform represents action in the name of safety.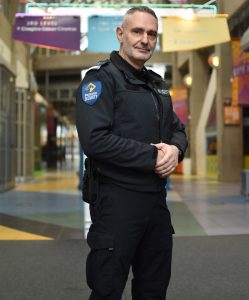 When it comes to training, Paladin takes great pride in being the leading training organization in the security industry, teaching others who have little or no previous experience in security and equipping them to help others, care for themselves, and create a safe environment. The company-paid and on-the-job training ensure that newcomers to security are ready to perform with the tools and confidence they need to succeed. They even help prepare staff for provincial licensing exams and tests.
Meet some of the Paladin Trainers.
There are many benefits to working in the security industry as a mature adult. You'll be able to enjoy a rewarding career, job stability, flexible employee-driven schedules, comprehensive benefits, and compensation that often starts at or near living wage. Learn more about the recent hourly wage increase for BC healthcare security positions.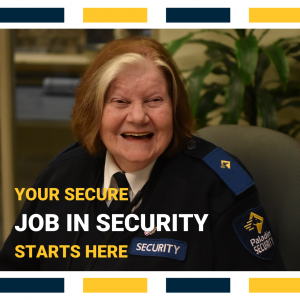 If you are in your retirement years or thinking about your retirement plan and want to make a supplementary income, learn new skills, and positively impact your community; then Paladin Security is the right place for you.
Continue your journey in A Secure Job in Security and find the role that works for you.
Ready to jumpstart your career in security? Here is a guide on how to become a Security Officer and a downloadable template for writing the ideal Security Guard resume.
Be sure to listen to The Difference Makers podcast and read our blog to learn more about us and the exciting world of security.
Life goes on, and so does your career!
Reader Interactions