Paladin strives for the constant evolution and growth of our people. The first value of Paladin's C.A.R.E. culture is to be "Curious" by seeking opportunities to learn and grow. We believe employee development and career ownership are the best ways to create a strong team. Through our promotion-from-within philosophy, employees can plot their career paths within our organization. Our goal is not just to fill shifts; it's to nurture careers and professionalize the security industry.
In our feature, Paladin Then & Now, we showcase amazing and inspirational stories of our employees rising through the ranks. This week, we're featuring Talent Acquisition Coordinator Harjot Panag.
Harjot came to Canada from India in August 2015 as a student. Her father is a senior Police Officer in India, and he inspired her interest in Law Enforcement. In fact, she chose Paladin Security as a steppingstone to pursue her own career in Law Enforcement.
Her Paladin Journey
Harjot joined Paladin in September 2019. She started working as a Patrol Officer in a large shopping centre, where she was quickly promoted to Shift Supervisor. After about six months, she got another promotion to Site Supervisor at a smaller commercial site. Around the same time, she joined the Force Options Program as a Safety Officer. She has taken every opportunity to learn and grow within the company, and today, Harjot is a Talent Acquisition Coordinator with Paladin at our Head Office.
"I was very lucky to get selected for Paladin's Leadership Development course, which boosted my confidence and inspired me to start practicing leadership. I was very nervous about taking this step, but I trusted my training, which really helped me gain the respect of my team and clients."
Moving up with Paladin Mentorships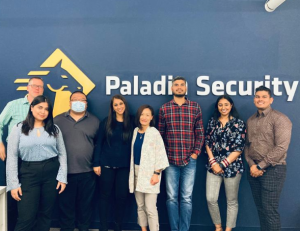 As part of her career path towards law enforcement, Harjot wanted to expose herself to as many new and challenging situations as possible. She feels that this exposure makes her a more competitive candidate for policing. Her Client Service Manager has played a crucial role as a mentor during her progression by constantly providing her with opportunities to grow within the company. This is a constant throughout the company; our mentorships have proven essential for many employees moving up within Paladin, and Harjot is no exception.
Being a true Paladinian means to be Curious by seeking opportunities to learn and grow, Accountable to do what you say and own your behaviours, Respectful by taking care of one another and celebrating our differences, and Exceptional by having the courage to be great!
Harjot is a shining example of these values, and this is how she embraces them: "I am passionate about working to a professional standard, and I feel that the CARE values provide a strong framework for collaborating with others with shared objectives. "
What Inspires Harjot Daily
Since starting with Paladin, Harjot's confidence has significantly increased, and she has learned a lot about communicating with people from a position of authority. Transitioning from the field to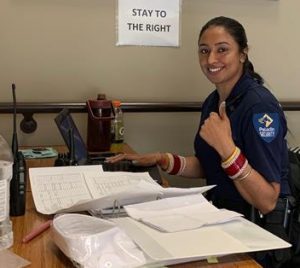 the office can sometimes be a challenging experience, but she described it as "a really amazing experience; I felt very welcomed by everyone, and I have enjoyed a great deal of support from my managers."
When we asked her what inspires her every day to come to work, she said, "I truly enjoy working with professional people, and I find the Paladin culture inspiring every day."
Harjot's Advice to Empower your Security Career
"Commitment is something you need to achieve your goal. Be a team player, give your best, and work hard towards your goal. Eventually, you will get it."
If you were inspired by Harjot's story and are interested in starting a meaningful and rewarding career in security, check out our careers page. There are endless opportunities to create your own career path within a booming and high-demand industry.
Unsure about how to submit a strong resume for a security position? Here is a free downloadable template to write the ideal Security Guard resume.
If you're still not sure, be sure to listen to The Difference Makers podcast and read our blog to learn more about us and the exciting world of security.
Reader Interactions