At Paladin Security, we encourage growth not only at work but externally as well.
Case in point, shopping centre Control Guard Victor Do. Victor joined Paladin in 2017 as a floor guard and has transitioned up the ranks at various sites. His passion for structure is what led him to the security industry, but he admits it was different than he originally thought.
"Before joining security I was pretty fresh-faced, I didn't really have a lot of street smarts. I had done pretty well academically but going and approaching people and having conversations, typical security work, I'd never done that before, so it was quite a big shock when I started getting critical incidents and having to take charge," Victor said.
Getting out of his comfort zone and pushing himself helped Victor grow within the company. And a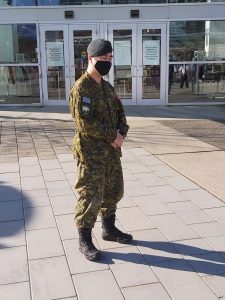 year into his security career, he decided he was ready for another challenge: joining the Canadian Military.
"I brought it up to my supervisors when I was putting in my application and they said, okay, just let us know what time you need off, and they never said no to me to go on an exercise or to have time off to go on course," Victor explained.
Three years in, Victor holds the title of Infantry Soldier, based out of New Westminster, B.C., and has been able to serve his country when called upon in large part due to Paladin's support.
"Most recently I disappeared for six months for deployment and they said, 'okay go have fun, go get some skills and experience and bring it back and we'll give you your job back when you return'', he added.
For Victor, it's the military lifestyle that was attractive to him, and the fact that he can use the skills he learns to better himself as a security officer.
"There's always something you can improve on and always a position you can strive for. And the whole atmosphere of teamwork, working with your good friends to complete an objective, and performing at that high level physically and mentally."
When it comes to being granted a leave of absence for military duty, the standards aren't the same across the board. Time off isn't guaranteed, especially if the person works in essential services. That's why Victor nominated Paladin for a Certificate of Appreciation from the Canadian Armed Forces for granting him a leave of absence for military duty.
In March, Victor was on hand to honour Paladin with the certificate, which he presented along with other members of the Canadian Military.
"I got a pretty good life right now. Paladin has always been super supportive so it's the least I can do."
This isn't the first time Paladin has been recognized for its commitment to Canada's soldiers. Earlier this year, we were awarded a Certificate of Appreciation from the military for the creation of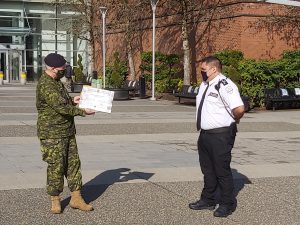 Operation Centre programs that support reserves in pursuing dual career paths. A member of the Armed Forces said then that this level of commitment and support is not common enough amongst our country and has held great value for them.
Supporting our employee's goals is at the heart of Paladin. Many of our officers go on to pursue successful careers in the military, law enforcement, healthcare, and countless other industries while many grow their careers internally due to our commitment to promotion from within. Check out some of our past employee testimonials of how a position at Paladin prepared them to land their dream job!
If you're interested in being part of the Paladin Family, check out our Careers page.
Reader Interactions