At Paladin Security, we pride ourselves on going above and beyond and being a difference-maker in every scenario we're in. Recently, a couple of our team members were recognized for their efforts, which included saving lives and creating programs to accommodate those in the military. Read on for their amazing stories!
Lethbridge Security Officer Teigan Lissel awarded the Prestigious Canadian Security Lifesaver Award
Teigan is being credited for saving dozens of lives throughout 2020 while working at Galt Gardens, a public downtown park in Lethbridge, Alberta. Galt Gardens is a popular hangout for the city's vulnerable population, many of whom have mental health or addiction problems.
For Teigan, the challenge of working at the site didn't faze him. He's a highly empathetic person who treats everyone with respect. He also enjoys getting to know everyone he encounters, which goes a long way in creating and maintaining relationships with those he deals with daily.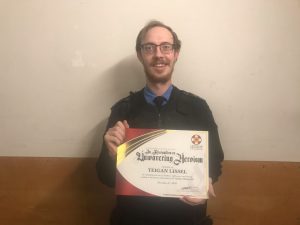 Galt Gardens had an uptick in visitors during 2020, going from about 25 people in the park at any given time, to over 100. Much of that had to do with Arches, the now-defunct supervised consumption site, closing off its smoking rooms. This forced those who would use them, elsewhere, which led to illicit substances being used in the park.
By August, security had reversed 50 overdoses, with Teigan assisting with about 30. By the time officers were no longer needed in Galt, over 100 overdoses had been reversed, with Teigan responsible for 50-60 of them. He's been known to take the lead in these situations, handling them with urgency and care. In some instances, he's acted as first responder, administering naloxone, and taking lead on compressions as well.
Teigan puts his heart and soul into his work, always willing to help out and even taking the initiative to obtain extra Naloxone kits on his day off.
"Teigan is the type of person that everyone enjoys working with. I have never heard a bad word spoken about him. When Teigan trains new officers, no matter where he is at, he also tries to drive the importance of empathy and respect into them," said Lethbridge Security Programs Manager Bert Velthuis.
Here is what the CSLA had to say about Teigan:
"When it comes to real-life heroes, we think of Teigan Lissel. It takes a special human being to show up every day, regardless of conditions, to ensure the safety and well-being of strangers.  Teigan is responsible for saving over 30 lives in the past year from drug-induced emergencies. He humbly takes his duty to heart, and it is with this kind of dedication and passion that he serves his community."
Congratulations, Teigan, on your Canadian Security Lifesaver Association recognition!
Zoha Rashidinejad and Nick Toplass honoured with Certificates of Appreciation
Paladin Security was honoured with two awards from the Canadian Armed Forces in February. The first was to Operations Centre Manager Zoha Rashidinejad for her direct contributions towards fellow employee Michael Kenacan's military progression. Zoha, who's Michael's manager, found logistical solutions to allow him to leave for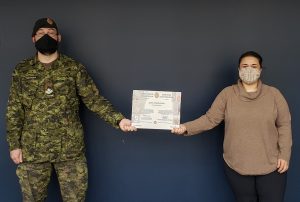 extended periods of time in order to receive training and aid in Canadian Emergencies over the past two years and to support COVID vaccine operations this year.  Zoha was also recognized for her unwavering support for the Armed Forces' deployment of COVID-19 operations and vaccine Management.
The second certificate was accepted by Nick Toplass on behalf of Paladin in recognition of the Ops Centre programs he created to support reserves in pursuing dual career paths (which includes training to receive formal promotions in rank). Nick implemented the programs when he managed the Ops Centre and was told by the Armed Forces that this level of commitment and support is not common enough amongst our country and has held great value for them.
"Receiving recognition from the Armed Forces for our commitment towards reservists was a huge honour I'll forever carry with me," Nick explained. "The most rewarding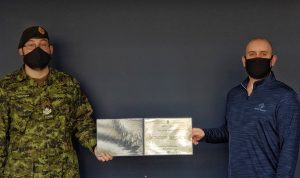 part of Management to me is supporting others in reaching their goals."
Nick said while a lot of hard work was put into the programs, the return was worth it. There's been an increase in tenure, elevation in internal leadership, and a far happier workforce.
"The best product a security company can produce is its people - and seeing them prosper both inside and out of the company will forever be the best aspect of working at Paladin," Nick said.
If you're interested in a career at Paladin, check out our career page here.