At Paladin Security, we believe the best way to create a strong team is through employee development and our promotion-from-within philosophy. Through our development programs, an employee can plot their own career path within our organization, lending stability to our workforce. In our bi-weekly feature, Paladin Then & Now, we're showcasing some of the amazing and inspirational stories of our employees rising through the ranks. This week, we're featuring Jeff Peng, Director of Innovation & Transformation.
Jeff Peng – Director of Innovation & Transformation
You are currently a Director of Innovation & Transformation at Paladin Security, but you actually started as an officer. What was that transition like from field to office?
It was very overwhelming. My first role in the office was as a Client Service Manager, and at the time, most of my colleagues were former law enforcement or long-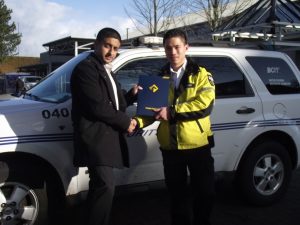 tenured security professionals. The analogy of "becoming a small fish in a big pond" was one of the first things that came to my mind. Everything in the office moved a lot faster than I initially expected!
When did you decide you wanted to move up within the company? 
My reason for joining Paladin was largely to gain paid, related experience for a career in law enforcement. I've always been a believer of making the most out of every situation, so my desire to move up probably existed since day one. In fact, one of the things that attracted me to Paladin was the opportunity to advance. It's been an incredible 12-year journey for me!
Have you received any post-secondary education, and did it help you transition to your current role?
For post-secondary specifically, I completed my BA in Criminology and Graduate Diploma in Business Administration, both from SFU. I am currently in the final year of my MBA program, also at SFU.
I feel my experience in academia helped more and more as my career with Paladin progressed. In my earlier years, I felt on the job learning and mentorship from my managers and colleagues was much more relevant to my professional growth. Along the way through, I found that I needed to round out my skillsets more effectively, which is why I returned to school.
What is your favourite thing about working for Paladin? 
My favorite thing about working for Paladin is the many friendships that I've developed along the way. My simplified explanation of corporate culture is that it is the personality of the company, and a company's personality reflects the people within it.
What piece of advice would you give to someone looking to move up within the company?
Be proactive and do not wait for a job posting to express interest. Talk to your manager and others early on so you can position yourself to be the strongest candidate when the opportunity arises. Doing this might require hard work and some patience, but it'll feel worthwhile when you achieve the outcome you want.
Reader Interactions