Paladin strives for the constant evolution and growth of its people. The first value of Paladin's CARE Culture is to be "Curious" by seeking opportunities to learn and grow. We believe employee development and career ownership are the best ways to create a strong team. Our culture's secret sauce goes beyond mentorships and guidance. It is the total commitment to our people and believing in their potential to grow from within that has allowed us to create an exemplary organizational structure with countless exceptional promotions. Through our Promotion-From-Within Philosophy, Paladin employees can plot their own career paths within the organization.
In our feature, Then & Now, we showcase amazing and inspirational stories of our Paladin employees rising through the ranks. This week, we're featuring Vice President Mathew Zielinski.
Mat's Paladin Journey
In 2006, Mat started his career at Paladin as a Security Supervisor within the healthcare security vertical while still attending Simon Fraser University, where he would eventually complete his Bachelor's Degree in Criminology. Over the years, Mat's supervisory experience diversified to include a foundation within complex security programs, which refined his customer service leadership skills, making him the perfect fit for his next career steps.
In 2013, Mat was selected as the Corporate Security and Health and Safety Manager for Electronic Arts (EA) Canada. A life-long learner, Mat applied his past security, customer service, and facilities management experience in this new leadership capacity to evolve Paladin's security programs and provide our customers with unrealized value-added management practices. With Mat aptly handling the expanded scope of his position, he once again took another key step in his career to manage not only regional security programs but national security operations.
Leading Though Experience
With all his gathered expertise in an account management role with national reach and having worked in the healthcare and retail verticals within the security industry, Mat was selected as the Account Director for one of Paladin's most prestigious accounts consisting of 400 facilities. His new position as the lead for what would become the largest non-healthcare contract in our company's history could not be more critical, and as per usual, Mat engaged another gear and excelled in his new role. He once again went above and beyond to complete his professional designation as a Certified Protection Professional (CPP) with ASIS, the preeminent security certification for the global security industry.
With Mat's experience and success handling full-service security operations, he was able to exponentially grow Paladin's footprint in Prince George and Kamloops, which prepared him for his recent and well-deserved promotion to Vice President, overseeing Paladin's Kamloops, Kelowna and Prince George branches, leading most of our BC contracts and several other critical infrastructure contracts based in Vancouver.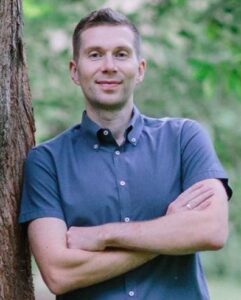 Not only is Mat one of the most well-rounded security professionals in the industry with a passion for teaching others at every opportunity, but he is also a true champion of Paladin's CARE Culture. His empathy and compassion have helped the company through many challenging situations. With a new baby in his family and a new position within Paladin, Mat continues to lead and support members of the Paladin Family selflessly. He continues to work with our regional leaders to build even stronger branches that will reach a new pinnacle of performance over the years ahead, thanks to Mat's leadership skills and unparalleled work ethic.
Paladin is incredibly proud and excited to be part of this next step in your career, Mat!
---
If you were inspired by Mat's story and are interested in starting a meaningful and rewarding career in security, check out our careers page. There are endless opportunities to create your own career path with Paladin's Promotion-From-Within Philosophy.
If you want to jumpstart your security career, learn How to Become A Security Officer. Unsure about how to submit a strong resume for a security position? Here is a free downloadable template to write the ideal Security Guard resume.
If you're still not sure, be sure to listen to The Difference Makers podcast and read our blog to learn more about us and the exciting world of security.