At Paladin, we are dedicated to fostering the growth and development of security professionals, regardless of their previous experience. Through our industry-leading training programs, we provide the necessary tools and techniques to handle critical situations effectively and create a safe environment for all. As part of our Promotion-from-within Philosophy and CARE culture, we also offer specialized training to enhance the skills of our Security Officers in their specific roles, leading to personal and professional growth. We take great pride in empowering individuals to help others and take care of themselves.
Paladin has earned a national reputation as the leading training organization within the security industry, and we have achieved such a prestigious title thanks to our outstanding training experts. Meet some of our featured Paladin trainers: Xavier Youngsue, Alessandro Caperna, Sean Crawford, Anthony Suppa, Noah Tufts, and Norm Bettencourt.
Meet our New Trainer, Diana Drazek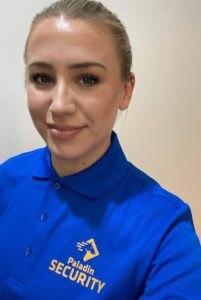 Diana's journey with Paladin Security began in June 2016 when she was hired at the age of 21 with little security experience. Throughout her time as a security professional, she has had the opportunity to work at multiple sites, including postsecondary institutions, malls, and office towers, allowing her to gain a well-rounded understanding of the security industry. In these roles, she has served as a Security Officer, Team Lead, and Shift Supervisor.
After gaining significant experience in the field, Diana wanted to share her vast security knowledge and help security professionals along their journey. That is why she recently decided to become a Paladin Trainer. She has been able to develop her professional skills and abilities, positioning her for future success. Diana's progression within Paladin is admirable and a shining example of our Promotion-from-within Philosophy!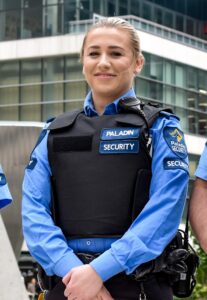 "It's been a great ride, and I'm thrilled that I decided to stay with Paladin. I've always valued the work we provide, the training Paladin offers, and the fantastic people I've met within the company. A lot of the customer service-based experiences that I've had and the way we approach people have been crucial for my success in a security career. It is the way you carry yourself and the conduct I've gotten from Paladin's training."
Read more about Diana's security journey HERE.
Trainer Goals
Diana is currently in training to become a certified instructor and is looking forward to continuing her work within the training department. Her goal is to provide a safe, positive, and engaging training environment for her students. In the future, Diana aspires to become a police officer with the Toronto Police Service. At the beginning of her career, she was not ready to put in her policing application, but she knew that Paladin would give her valuable experience and confidence to build her resume.
Be sure to listen to Diana in the Difference Makers Podcast, where she talks about how to stand out in the security industry:
"If you see yourself somewhere, you should just go for it! Take advantage of everything that Paladin has to offer, be professional, put your best foot forward, and be enthusiastic about your work. Every day is different, and we must take those learning opportunities."
Welcome to the training squad Diana; we can't wait to see you grow with your students.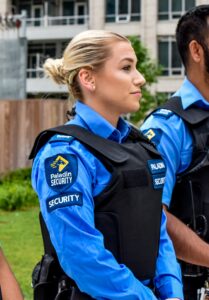 Diana is another shining example of our outstanding trainers at Paladin. They really take the time and dedication when it comes to training our staff. The Paladin Difference is about more than just meeting curriculum requirements or teaching students about everyday security procedures; it's about bringing the classroom to life. We want our students to be able to take the information they've learned and apply it to their next patrol. Through this hands-on, strategic learning, we empower security professionals to make a positive difference in their communities.
Paladin's company-paid and on-the-job training ensure that newcomers to security are ready to perform with the tools and confidence they need to succeed. Our security professionals can take full advantage of the training and its application to sharpen their skills, knowledge, and abilities to meet a career goal. We even help prepare our staff for provincial licensing exams and tests.
If you are interested in starting a meaningful career in security and making a difference in your community, check out our careers page for all our opportunities within Paladin. We would love to see you grow and take your security career to the next level with The Paladin Family. 
Ready to kickstart your career in security? Here is a guide on how to become a Security Officer and a free downloadable template to write the ideal Security Guard resume.
Be sure to listen to The Difference Makers podcast, where our security professionals talk about what makes Paladin's training so unique and why continuous education is vital in a security career.
Reader Interactions