Paladin Security is honoured to be named winner of the Outstanding Contract Security Company (Guarding) Award from the inaugural Canada Outstanding Security Performance Awards (OSPAs) 2022.
The OSPAs recognize and reward companies and individuals across the security sector. They are designed to be both independent and inclusive, providing an opportunity for outstanding performers to be recognized and their success to be celebrated. The winners were presented at a virtual awards ceremony on Thursday, December 8, 2022 (see 55:39 for our award).
From humble beginnings with four employees and one contract, Paladin has grown into Canada's largest private full-service security company. With ten years as one of Canada's Best Managed Companies, a place in the Hall of Fame of Canada's Most Admired Corporate Cultures, being named Best Employer by Forbes Magazine for three years in a row, and winning multiple BOMA National Pinnacle Awards, Paladin has showcased its biggest differentiator - its people or what we call The Paladin Family.
Paladin has been one of the fastest-growing companies in Canada over the past years, and its success is a direct result of championing a unique corporate culture and developing the most responsive security programs in the industry. We stand out because of our people-first approach, empathy-led security model, and promotion-from-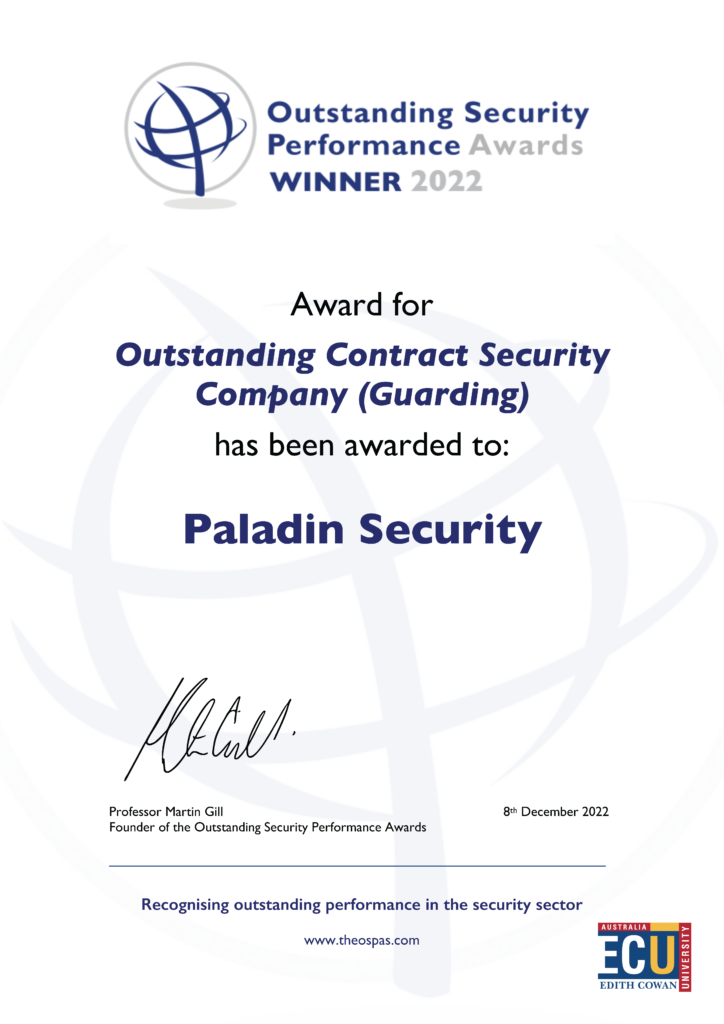 within philosophy. The OSPA judges said that "Paladin showed a strong family culture, and their commitment to training and employee development is commendable. The focus on 'team' was evident in each and every piece of evidence that was provided – highlighting their claims of people being the difference to achieving excellence."
Paladin is all about making a difference in the communities we work in and people's lives through our accountability, strong customer-savvy relationships, and powerful engagement with the public. We believe in instilling a sense of pride and professionalism in our Security Officers by rewarding their outstanding actions and heroic work. Our recognition programs allow peers and leadership to nominate officers for monthly performance awards. Additionally, we constantly nominate our security professionals for award programs like Canadian Security Lifesaver Awards (CSLA), International Association for Healthcare Security and Safety (IHASS), and more.
At Paladin, we refer to our staff as Security Officers rather than Security Guards to empower and instill a sense of pride and professionalism. Every Paladin uniform represents action in the name of safety, and each Paladinian understands their role and purpose to make the world a safer and friendlier place by exhibiting The Paladin Difference.
We would like to send a big shout-out and a warm thank you to all the Paladin Family members for being part of this huge achievement!
This showcases our commitment to making a difference and delivering exceptional service, highlighting our main differentiator: our people.
---
If you are interested in starting a meaningful and rewarding career within an outstanding security company, check out Paladin's careers page. We would love to see you grow and take your security career to the next level.
New to the security industry? Here is a free downloadable template to write the ideal Security Guard resume and an article on how to become a Security Officer
Be sure to listen to The Difference Makers podcast and read our blog to learn more about our culture and the exciting world of security.
Reader Interactions