At Paladin Security, we believe the best way to create a strong team is through employee development and our promotion-from-within philosophy. Through our development programs, an employee can plot their own career path within our organization, lending stability to our workforce. In our bi-weekly feature, Paladin Then & Now, we're showcasing some of the amazing and inspirational stories of our employees rising through the ranks. This week, we're featuring Tafneem Hajee, Senior Client Service Manager. 
Tafnee
m
Hajee
 – Senior Client Service Manager 
Tafneem is a Senior Client Services Manager at our Vancouver Head Office but started off in the field. She has held a number of positions from when she first joined Paladin back in 2013, including Field Manager and Healthcare Coordinator.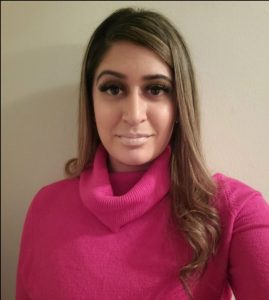 How She Got There
One thing's for sure with Tafneem, she's always up for a challenge. She has a double Major in French and Political Science from Simon Fraser University, with a specialization in International Human Security. On top of that, she also holds a certificate in Liberal Arts. She originally joined Paladin as an officer while at university in order to help pay for tuition, but once she moved to head office, she put her degree on hold and focused on her career. It wasn't until a couple of years later that she finally was able to complete it.
Tafneem has a passion for Healthcare, which has been the common thread throughout her career. Shortly after working as a healthcare security officer, she moved into a Site Supervisor role and then became a Field Manager. Her rise up the ranks continued quickly after that, as her manager encouraged her to apply for a Healthcare Coordinator position at head office, which she ended up getting.  
This is what Tafneem had to say about those who pushed her to grow.
"It was the Managers from my site that believed I had the potential to grow within Paladin and had they not recognized this, I would have left after completing my education as planned." 
Pushing for (More) Growth
While at head office, Tafneem credits one of her Senior Managers who continually encouraged her to achieve more. She says having him believe in her had a profound

impact on her career.  
"He would take me to meetings with clients where I would simply observe and take notes, so that one day, I could be prepared to take on a higher role within Paladin. He was a strong believer in succession planning and always ensured us Junior Managers had a spot in his plans. I am very lucky to have worked with him for almost my entire career within Paladin and will forever be grateful for his mentorship." 
The Paladin Culture
Tafneem's favourite part about working for Paladin is it's Corporate Culture. She says it's what drew her to the company from the start. She not only appreciates the 'promote-from-within philosophy', but also the on-going training that is provided to all employees, regardless of what position you're in.  
Advice to Others
"Work hard and never give up. A good work ethic will take you far and will be recognized by your superiors. I always tell my staff that promotions from within are based on merit and not how long someone has been employed, and I'm only one of the many examples!" 
Reader Interactions