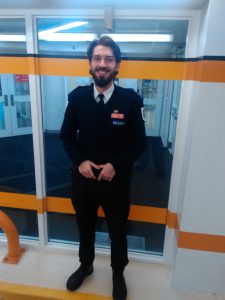 Paladin Security Officers play a critical role in keeping the communities we serve safe. Acting as city ambassadors, our Officers connect with the communities they protect in a personal way and often develop strong relationships with those they meet. Like many communities, often addiction and mental health issues can challenge the areas we serve.
Recently, one of Paladin's Burnaby Officers talked about a distinct bond he had formed with a troubled young man battling with substance abuse. Assistant Site Supervisor, Luke Flumerfelt was working at a shopping centre in Burnaby and was conducting a routine patrol when he came across a person in the stairwell. While he could have escorted the troubled, disheveled youngster to the exit, Luke took the time to stop and speak with him.
"I would routinely check the stairwell and would come across the same guy every time. He had long hair passed his shoulders and when I initially looked at him. I didn't think much of it. That was until I looked into his eyes and realized he was a young man," says Luke.
During one of his conversations with this young man, Luke learned that the youngster had played hockey and was drafted into the western hockey league. He went on to tell Luke that he suffered a bad injury during his hockey stint and was prescribed medication, which he later became addicted to.
As Luke continued working his shifts at the shopping centre, so did his efforts in getting to know the man. During each conversation, Luke wanted to demonstrate to this person that someone cared about him. "I began to think that I had to do something to help this kid because he has a lot of future left," said Luke.
The next time Luke performed his routine stairwell checks, he noticed the young man was missing. A month passed in which he did not see this young man. Luke was very concerned and expected the worst.
"My shift was over, and I changed out of my uniform. I was walking away from the site in my regular clothes and the boy called me out by my name. I couldn't believe he had remembered me after only seeing me in the stairwell," says Luke.
It was then that the young man told Luke the profound impact he had on him and how Luke inspired him to get help and go to a rehabilitation centre.
"He was just so happy. I could see a change in his attitude right away. I spent some time with him until his mom came to take him to the centre. I was feeling so many emotions and when his mother arrived, she said a heart-felt thank you and said that her son was getting help because of me," said Luke.
Luke's actions demonstrate how impactful even the smallest of conversations can be.  His compassion and understanding helped to change the life of this young man and helped him seek the help that he needed. Luke's story has reminded us that even the smallest actions can make a large impact.
Our organization regularly speaks of the Paladin Difference, which refers to our unique approach to security and the standard of our people. Officer Luke Flumerfelt has embodied the Paladin Difference with his approach and empathetic attitude towards this young man and this sensitive situation. The profound influence he had on this young man to get help is admirable, and Paladin is extremely proud of Luke's actions.
We are truly touched to learn that the youngster is doing well and improving his life. He has recently started a new job at a local restaurant and says he is reminded of Luke and the significant impact he made on his life every time he sees a Security Officer. Luke truly has epitomized above and beyond!
Reader Interactions