"It is really uplifting to see how many people do want to give back to society as a whole and work towards that. Frankly, security is a growing industry, it's a growing need and it's one that we're finding that takes special people" - Tony York, Executive Vice President (EVP) for Paladin Security Group.
It has not been an easy couple of years for the healthcare industry. The COVID-19 pandemic has been very trying for everyone inside of hospitals and care facilities. Without question, the security service demand has increased since the beginning of the pandemic, putting a challenge for many that are serving in the healthcare environment unlike any time in our past. Through it all, Paladin Security has been able to keep our hospitals safe and more importantly, we have been helping people get the help they need, instilling the Paladin Difference.
In an interview with CityNews, healthcare industry expert and Paladin Security Group's EVP, Tony York, talked about the importance of empathy in healthcare security in Canada and throughout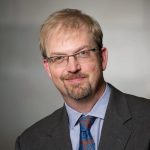 North America, how our industry-leading training helps Security Officers overcome difficult situations with what Tony calls the "give-back approach", and how the security industry is growing and attracting amazing people that ultimately become heroes in healthcare security, despite the challenges.
Watch Tony in The Future of Healthcare Physical Security.
Can you give certain examples of interactions that some of your Security Guards have had to deal with in recent months?
"Our Security Officers in healthcare facilities are being exposed to more tension lately. Everyone who comes through those doors is being held to the same standard just like all of us are being held when we're walking inside of this environment. We treat everyone with the same level of respect and empathy to keep our communities safe, that's our job. We've seen a tremendous amount of protesting and the people that we are there to protect are being exposed to certain behaviors that make them feel uncomfortable at times."
Would you say that there's been an increase in some of these behaviors and these conflicts that your Security Guards are having to deal with?
"We're interacting with more people that are not appreciating the screening procedures and mask expectations that are in place. I've never seen it anywhere in my 30-year career serving healthcare security. What we've been fighting for years, are the issues associated with those that we're charged to care for, and based on our empathy-led security model, we're trying to use a lot of different techniques to help everyone who comes looking for help.
We have all kinds of tense, violent, and uncomfortable situations happening at a faster level than we have ever seen in the industry but it's something that we're continuously working to control. What we have to do in a lot of these situations is try to use the best means to help the care providers get control of the situation with a very empathetic approach. We don't make decisions in isolation, it's always in partnership with our care providers, they are the ones who direct our actions when it comes to any kind of care that is rendered or any actions we take on that front. What we're really trying to do is help people get the help they need."
Would you say the average hospital your Security Guards are dealing with this multiple times a day?
"I wish I had a ratio for you, but it's multiple times a day. Don't get me wrong, we have so many folks that come into the healthcare environment that are just beautiful in reference to how they act, how they work with us, and their gratitude for the Officers being there. There's a lot of that positiveness happening, but it is those exceptions that we're having to deal with on a daily basis."
There is obviously security training and when you go into this business you are expecting to deal with confrontation, but the way you describe it, it has definitely gotten worse and happening more regularly. Can you speak to the toll that it has on your Security Guards?
"Even though you're trained and prepared for it, it takes a tremendous amount of empathy. Today I am just absolutely amazed at how they handle these situations and frankly, it's because they're selfless. That's what most of these Security Officers working in healthcare are, they're really helping others and they're there for the greater good. We try to do a lot to make certain the Officers understand how to recognize every single person that walks into that organization. Everyone has a story and they're there for a need, and they are there probably with other stressors, it's a highly emotionally charged environment. Rarely do any of us go inside of healthcare for something that is good to happen, most of the time it has to do with something that happened to us, or a loved one, or something that is really concerning to us. We're trying to be very considerate; we use a lot of trauma-informed practices, which really help the Officers understand the plight that someone may be coming in with.
With the labour market being what it is right now, the level of aggression is higher than it's ever been, these frustrating moments are affecting a lot of people and the opportunities to work in other places aren't as great as before. So, what we're trying to do is find those empathetic souls that are really understanding what it means to actually give back to a greater good. It is really uplifting to see how many people do want to give back to society as a whole and work towards that. Frankly, security is a growing industry, it's a growing need and it's one that we're finding that takes special people. Our training does allow Security Officers to come into that environment and succeed. Our training is very heavy on de-escalation techniques and in understanding how to redirect behaviors. I have a high admiration and respect for how well our Security Officers respond to these situations. "
There has been a conversation about a lack of or at least an apparent lack of mental health support in our healthcare system. How much of the security service demand that you're seeing in hospitals seem to be related to this?
"If anybody has been inside of healthcare recently, they've seen the volume increase at the front doors. There's a screening process, there's temperature checking, there are tactics that help us be efficient with making this a seamless process, but it still takes an individual to engage and to interact with people, it's important.
I'm not a medical care provider, but I can read the situation just like everyone else; I have a lot of doctor friends, I have a lot of nursing friends and I see the toll that is taking on our colleagues. But when we go into the mental health component of care and support, what do we really see? We're seeing folks that have been negatively impacted by COVID, the isolation, and so many other challenging factors of our current COVID environment that are having a negative impact.
Let's also not forget, the one thing we are doing right in society is that we're bringing more attention to mental health awareness and I think we're we've done a lot. We have not yet removed the stigma completely and but today people are seeking help faster than ever before.
The people that we used to see in specific types of care environments and mental health units, we are now seeing in an Emergency Department, on general medical-surgical floors, and our ICUs. This is challenging for many of us serving the healthcare environment and is unlike any time in our past. The good news is we're getting the people the help that they need, the hard part of it is the volume. It outpaces many of the resource projections originally needed to keep these departments safe - but we have managed to keep them safe. That's something the healthcare authorities throughout Canada and North America have done with great pride. The type of care and the type of safety being created for these environments is impressive."
Security Guards at hospitals are seeing more pressure, seeing more demand and part of it is the increasing demand in mental health and lack of resources. This makes their job that much harder, correct?
"You are, and it really talks about the type of training that is provided to our Security Officers. At Paladin, we take great pride in being a learning organization, we take great pride in teaching others who may not have had previous experience in security, to be able to know how to help others, care for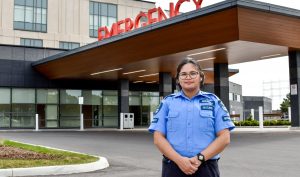 themselves, and create a safe environment. I call it the "give-back approach" and what's so good about it is that we're helping them understand the tools and techniques needed to manage these situations. Our Officers understand how valuable it is to really take full advantage of the training and its application. It is amazing how well trained these Officers are in what they do. They really know how to create a safe environment; they're the heroes here as far as I'm concerned, along with the care providers. At the end of the day, Security Officers are keeping our care providers safe and that's who's keeping patients safe. It really is a very positive flywheel that works together."
"We serve more than 500 healthcare facilities across Canada. We're very blessed to have some wonderful customers that we have been partnered with for many years and healthcare is a specialization for us, it's an area we take great pride in. We know it's not like any other environment we try to keep secure; it is not the only environment we work in, but it is one that we have put a lot of emphasis and specialization.
We also want to make certain that we understand it's not just people keeping these environments safe, it's a really good blend of people, of processes, and technology that we deploy. We really want to make certain that we do everything we can to keep these environments safe and it's that integration of those three: people, processes, and technology that we really find have been to the benefit of keeping healthcare safe."
Is "Security Guard" the proper terminology for this profession?
"Thank you for asking, we like the term Security Officer, you have probably heard me saying it throughout our conversation. I also use Security Professionals. Primarily because we know they're professionals, we know that they're well trained, and we hold them to a very high standard.  Referring to them as Security Officers raises that bar professionalism, which is something that all of us at Paladin and the healthcare security industry in general, are really focused on doing.
I do a lot of writing and research in the industry, consider myself an advocate for the industry, and Paladin has been extraordinarily supportive of that. At the end of the day, we know that this is a phenomenally noble profession. It's not easy and it's not for everybody, but for those who do want to give back, I don't know if there's a better profession. It's not just the job of a Security Officer, it is a career pursuit that folks can have. It is amazing to me how many people I come across that work in this business now that have been doing it for dozens of years. They found it because they realized that they wanted to do something that really gave back, and they wanted to be a part of something noble. When they approach us, we show them how to learn this business and we put a lot of emphasis on that.
When you go home and you realize you made a difference in somebody being safe, there is nothing more rewarding than that. We know there's a direct correlation between the work we do and the outcomes that are happening inside healthcare, positive outcomes. We'd like to refer to ourselves as a force for good and that allows us to create as much positive interaction as we can with people."
For anyone looking for an opportunity to enter the healthcare security field, Paladin currently has open healthcare positions across Canada. Check out our careers.
Reader Interactions